It has been a couple of months since I gave the last Incubator Project update. September and October got away from me, so this is a compilation of the latest updates I have received. For those new to my blog, last spring I did a little project in hopes to raise enough money for Love Without Boundaries to purchase an incubator for my daughter's orphanage. Well, that little idea exploded through the big hearts and generosity of those that read this blog. We were able to fund the incubator, towels and diapers for my daughter's orphanage. The funds kept coming in and as a result we have been able to sponsor so many kids together.
Love Without Boundaries does all kinds of work for vulnerable children. I made a request that some of the funds go towards helping children with clefts (for obvious reasons). So each month I try to give an update on the kids we sponsor…the list of kids that keeps growing as some transition out of LWB care and our sponsorships are transferred!
Some of you have photos of these sweet faces on your refrigerators. Some of you talk about them with your kids. Some of you are advocating, praying and sending additional support to Love Without Boundaries for these kids. Thank you.
You can find the previous updates and information regarding how The Incubator Project started by clicking here.

The polaroid pictures are the first photos we got of each kid, I will use these polaroids for every update so we can see them grow.


Abby gets so excited when her foster mom makes her a bottle. She has been sitting up on her own and enjoys the freedom she gets in a walker. Abby is in LWB Foster Care.


Alan is in LWB foster care that we help sponsor. This month his report said he dislikes rice and noodle, but likes to eat pies! He will clap his hands when fed and will smile to show you his need.

Allie is described by her nannies as sweet and easy going. She loves music and will pay close attention to anyone who sings to her. She has gained three pounds in three months and is very close to her goal weight that will give her the green light for her lip repair surgery

Amy has been working hard to reach her developmental milestones. She is no longer a quiet and passive infant. When she is not busy crawling, she is racing other babies around the room in her walking chair.
Asher has graduated out of the Healing Home and is now in LWB Foster Care. He is doing great in foster care and continuing to gain weight.
Bailin is shy, a little timid, generous, and active. His favorite activity is going outside. This month his foster family has taken him outside to play a lot. His foster mom is sure he'll grow to be brave. We are helping sponsor his foster care.

Blaise is now walking all over the place and is very independent. Despite his open palate he is having no trouble eating. He is also becoming more relaxed around new faces and gets a good case of the giggles. The Healing Home is happy to report that Blaise will be adopted at the end of the year!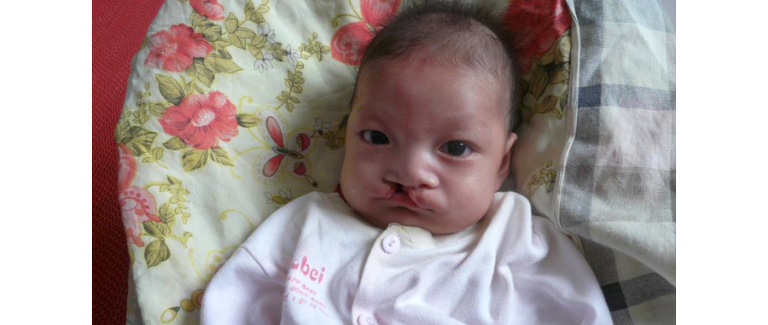 Little Brandon arrived in July and was in such obvious discomfort that he required a visit to the doctor. His pain quickly proved to be a hernia that will likely heal on its own, but that the nannies need to be aware of so they can keep him in comfortable positions. Within a month, his hernia healed to half its original size and Brandon was feeling much more comfortable. He started eating and gaining consistent weight, which will allow him to have his lip repair surgery soon.

Clara Jane is new to our group of kids. When Dolores graduated out of the Healing Home, our sponsorship was transferred to Clara Jane. She is very weak and has been hospitalized. She is one month old and weighed 5.7lbs when she came to the Healing Home. She has an unrepaired cleft lip and palate.


Dolores has graduated out of the Healing Home and is now in foster care. We are helping fund the cereal program for her foster care.
Ella's lip was repaired in August and is doing so well.


Emmerson is doing wonderfully at the Healing Home. He likes rolling in his crib when he sleeps and likes being teased by those he knows. He is now responding to his name and beginning to make sounds like "Ma, ma, dada…"

We are all cheering for our little guy Gal. He has overcome some of the biggest obstacles beyond arriving tiny and fragile. He has been under the constant care of our HHH doctor who is watching his cough and fever come and go. It was decided that he be taken to the hospital in August to see if further treatment could be given for his nagging illnesses and he wound up being admitted for eight days for fluids and IV antibiotics. The doctors suspect that Gal was likely a preemie and is just taking a bit longer to grow and hit his normal milestones.


Ginny is new to our group of sponsored kids. She was born prematurely, but is now very healthy. She is a great listener and is already trying to speak. Her foster grandmother is happy she is already doing so well with them.

James is 3 years old and we help support his foster care program. He is active and outgoing. He likes to play outdoors and he also likes watching tv.

James  is a happy, easygoing boy. Other than just a couple of digestion issues, he has been a delightful baby who loves to eat, sleep, and be cuddled. We are told that whenever the HHH nannies have a free minute, they scoop James up and smother him with kisses. They now refer to him by his nickname "Big Handsome."


Jerren is new to our group of kids. We are helping sponsor his stay at a Healing Home. He is just a couple months old and is doing so well. He enjoys his time be held and given attention by the nannies. He prefers the bouncy seat over the crib and is beginning to make baby sounds.

Jorge is doing well in foster care. We are helping support his foster family through the Cereal Program (purchasing needed cereal for Jorge). Jorge's foster mother had to travel for a bit and he did not do very well while she was gone. She has since returned and he is much happier.


Libby is full of funny expressions and eating well. We are helping sponsor Libby's foster care nutrition program.

Neil does not like being outside when the weather is hot. He will not even go out if his friends invite him to play. He is becoming more outgoing and loves to tell his foster mom stories at night. We help support Neil's foster care.


Pete is doing well post-surgery. He is healthy and so smart. These pictures are from his 3 month medical update. We helped fund much needed surgery for Pete.


Sansa is new to our group of sponsored kids. She is 8 months old and we are helping support her foster care. She has a repaired cleft lip and an unrepaired cleft palate. She is smart, lovely and willful.
I do not have a new update on Valerie at this time.
Christopher transitioned to a special unit at his orphanage this month. He will turn one in November. He grew very attached to his nannies and always gave his favorite nanny the biggest smile. He was the oldest at his healing home, so he was often quite spoiled. July 2012

Jacob's lip has totally healed from his cleft lip repair. His smile isn't quite as big now, but he is a happy baby. Jacob always wants one on one attention. He likes to sit in the walker and follow the nannies all over. He is happy and active. He loves the nannies and enjoys when others come to visit. Jacob has now transitioned to foster care run by another organization with his home orphanage. This will be the last update we get on Jacob. June 2012

Marieli healed well from her palate surgery and has became even more attached to her nannies while she was healing. She enjoys playing with other babies. She is active and walk in the walker anywhere she likes. She is very quiet, but laughs very loudly. Marieli had been at the Healing Home for 17 months, but has now transitioned to foster care in her home city. This transition was very difficult for Healing Home nannies. However, her nannies are thankful she will get the chance to have individual attention and will be preparing for adoption. This will be the last report we will get on Marieli as she is now foster care run by another organization at her orphanage. June 2012

Together we have had and currently have the honor of being advocates and supporters of all those beautiful faces! It is incredible. I wish I could hug all of you that have played a role in the lives of these kids. You are my heroes. Thank you!



I also want to share a few new ways to help the children LWB supports: