I'm not the best blogger at answering questions in the comment sections. I try, I really do. Despite my best efforts, I just can't keep up with them. However, I am so grateful you read my blog – I do hate not being able to answer each and every question. If you've asked a question and are still waiting on a response, I apologize. That all really doesn't have much to do with my weekend, other than a few of these pictures reminded me of questions some of you asked…so I'll answer some today in this post….
This weekend a good friend returned home from Ethiopia with her two new sons. We got to watch their family be reunited and celebrate with them at the airport. For my kids, adoption is just normal. A good number of their friends are adopted and in their eyes it is just another way families are made. Nothing out of the ordinary. Anyway, the boys made posters to welcome home the boys they've been aching to meet.

One of the boys is a Spiderman fan (so I am told), my oldest was adamant his sign had to have Spiderman. My feet look abnormally small in this picture.

Q&A time:
Where is that wallpaper from? It is by Orla Kiely. I got it last year on sale from her website. I'm pretty sure it is discontinued. (Update: when I bought it, it was 50% off because it was discontinued…though it was mentioned in the comments today that it is still available, maybe they changed their minds)
Where is the round chair from? Well it is a long story (I should share sometime). Short story…I grew up with it in my parent's home. It lived in my aunt's barn for a few years. One day my sister decided to sell it, I drove past the store and saw it on the sidewalk. I made her get it back and now it lives with me. It holds my clean laundry 90% of the time (like in this picture).

This is from the airport. I held it together pretty well with all things considered. I took several photos, but got home and realized I had my camera on manual focus the whole time, so everything was blurry. I wasn't thinking straight. Our older boys will be going to China with us. When we return home, it will be after being away from the little two for 2 weeks. I try not to think about that part. I look forward to after the airport…just normal life at home, the 7 of us.

My friend Shannon was there with her camera to capture everything for our friends. Airport pictures are hard – crazy weird lighting and shadows. Shannon did an amazing job…here is their first family portrait. I love this family so much. We've known them since their oldest daughter was in elementary school (now she is one of my son's teachers!). And, yes, I told Shannon she'd be at the airport when we come home. I don't think I gave her an option to say "no".
Click here to see Shannon's full post on the homecoming (and a better picture of my oldest's super Spiderman poster 🙂 )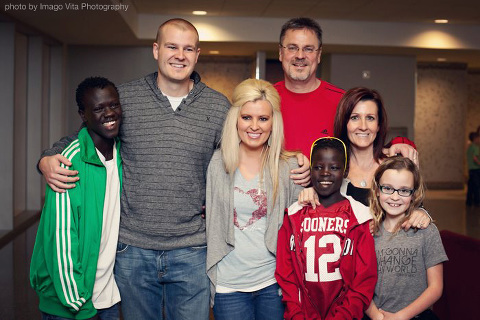 Happy times. A family complete.
Q&A time:
How did you take that picture of FireCracker's hair?
Well, I simply held her by her ankles and swung her side to side with her hair brushing the trampoline. Then I laid her on the trampoline and took the picture. Her hair provided a good 15 minutes of entertainment for her mom & brothers.

So…yeah. That is about it for today. There's a few other random things I wanted to mention below. I'm off to enjoy this abnormally warm weather…maybe I'll run. I hate running, but I'm training for a 5K. Weird. You can run with a distracted mind, so it is working for me these days. 

The latest SnapShop course began yesterday. The next course will be April 22nd – May 13th. You can register and find more information by clicking here. I plan on doing 3 more in 2012 after the April course. You can also enter to win a spot in the April course on The Anderson Crew.

I do have a few openings for April advertisers. I am currently booking advertising spots through June. You can contact me (via the contact tab at the top of the blog) if you'd like more information.

Some of you are familiar with Ashley of Lil Blue Boo. I've done a few guest posts on her blog in the past. Ashley is courageously battling cancer right now. Countless bloggers and shop owners have joined together in an auction fundraiser to help Ashley with medical bills. I have donated a spot in any upcoming 2012 SnapShop. You can click here to view all the items up for grabs…and support Ashley in the process. I shared Ashley's "Rite of Passage" video on facebook, but not here…amazing…click here to view it.
The auction will go live at 8 pm EST/ 5 pm PST on the 27th and the ending times will be staggered a bit throughout the evening on the 29th to allow as many people as possible to bid on the items that are so generously being donated.
Click Here to go to the auction