Christmas decorating is hard for me. I want my kids to be involved and feel a part of it, but on the other hand I really just want to do it my way. Right now, I am letting them have more say….which honestly drives me crazy because our opinions are quite different. I have yet to find a balance between my taste and the preferences of little boys. If they would let me cover their Legos in teal glitter we might find common ground.
In an effort to have a little say in the decorating, I've made a couple of new projects this year. I've seen these mason jar 'snow globes' on Pinterest, Anthropologie, and my friend Meredith made some for the Christmas Gathering. Oh my goodness, these are fun and addictive to make!

I made mine using trees from Hobby Lobby. They are in the Christmas crafts aisle…you can get packs for $1.00 when they are 50% off. I bought deer off of etsy, but also found deer at Hobby Lobby in the area with the doll house furniture…also around $1.00 when you use a coupon. Never shop at Hobby Lobby without a coupon! Meredith tipped me off to spraying the trees with white spray paint and covering them with glitter before the paint dries. Worked perfectly.

I hot glued the trees to the bottom of my jars. I used kids chopsticks to reach the trees & deer down to the bottom. If you look, you can see my kids eating lunch in the background. This is one of those really fast crafts that can be done while little ones eat. Lunchtime is often craft time for me. When else do I get all the kids still and interested in the same thing?

Finally, I poured a bunch of the chopped up snow stuff from Hobby Lobby on top. I made 10 of these…then went and bought enough supplies for about 10 more using standard clear mason jars. What will I do with them all? I have no idea, but they are really fun to make.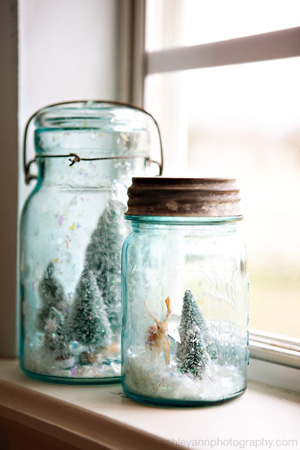 I stole another idea from my friend Cindy. I stopped by her house and she had the cutest wreaths hanging in all her windows. I think she said she saw the idea in the latest Martha Stewart Living. Embroidery hoops + boxwood + hot glue = wreaths that look awesome and don't block all that light coming in my windows.

I have boxwood to make more, but probably won't get around to it. So now it is a centerpiece. A girl cannot have too many old coffee tins. Chris might disagree.

Those are the cute decorations. The majority of my festive house looks more like this: