It happens every year. Every year. When it comes time to decorate our Christmas tree I always end up frustrated. I heard once a definition of frustration is 'when expectation does not meet reality'. Good definition. In the past, I've been frustrated because I've wanted a beautiful tree decorated just as I like it…faded colors, a bit vintage, a bit bohemian…but with happy little helpers gathered around me. The happy little helpers are never found. Last year the tree never really got decorated. I wanted to do it my way. The kids weren't interested. I gave up.
This year I had a plan. I decided I'd give the kids free reign over the tree. Instead of faded vintage ornaments and trim, I would let them cover the tree in Blue, Red, Green & Purple (light saber colors). We would go early in the morning to cut down our tree. Then we'd return to the house for our own family Christmas party. There would be Christmas music playing. There would be decorations and Star Wars crafts. There would be special cookies and hot chocolate out of mason jars. AND, since they would have to get out of pjs to go get the tree, they'd be all dressed so cute for our little party. All the little details to make it a special day would mean for the first time ever….we'd have a fun time as a family decorating the tree. Just like all those stories I hear from other moms or see in magazines. This was our year.
I waited until they went to bed. Then I stayed up past midnight decorating, sewing streamers, gathering crafting supplies.

Cupcake liners strung. Remnants of trim, lace and tulle tied loosely. Ruffled crepe paper streamers….

I covered the kitchen table in bright wrapping paper and added supplies to create whatever they wanted to hang on the tree.

Special cookie ornaments. Mint Chocolate cookies. Hot chocolate with fun straws, marshmallows, & chocolate chips.
It was going to be a great day. They were going to have fun. I was going to have fun.
We'd end up with an ugly Star Wars covered tree, but that was totally fine with me this year.

Only it didn't go as planned.
Heavy rains woke me up in the middle of the night. The pounding water continued to wake me up until the morning hours. By 7am it was still raining and I knew there would be no tree coming to our house that day. Even if it stopped raining the tree farm would be too muddy, too cold, too windy…and the trees would be wet. I heard the kids waking up, but I just sighed and rolled over. I could hear FireCracker coming down the stairs saying, "Wow. Oh, wow. Wow!!!" She loved the decorations. I hated the cold rain. I wasn't even out of bed yet, but already in a grumpy mood.
Eventually, I got up…bummed out and with a bad attitude I couldn't shake. The kids loved the special cookies. They loved the hot chocolate. They loved the special straws. No one else seemed remotely sad that we weren't cutting down a tree. No one else missed the perfect little Christmas party that had been floating in my head for weeks.
3 stayed in their pjs. Luke Skywalker changed to his all black Jedi attire. They had fun creating initial ornaments for the tree.

It lasted about 20 minutes and with no tree to decorate, they were off to their usual antics.

I decided to decorate small trees for some snow globes…then realized I didn't have snow.
Too much rain to decorate one tree. No snow to decorate other ones.

So, the day I had planned didn't go even remotely close to what I had in mind. We still don't have a tree. I'm not sure if I'll get little helpers to decorate it with me or not. I have a few friends with kids that love decorating trees, maybe I'll invite them over. We shall see.
That's life though, right? Even with great planning and great expectations….sometimes things just don't go like we planned. I ended the day wondering if it was worth all that effort. It was not worth it in regards to my own joy – I was bummed out. However, my kids had totally different expectations for the day. They hadn't been planning. They hadn't be dreaming. They just woke up to a downstairs full of surprises and they loved it….even it was only for 20 minutes.
Even with a bad attitude, I knew it was worth it. So things weren't 'perfect', but are they really ever? My kids felt special and celebrated and at the end of the day, that is better than any perfectly perfect day I had planned.
The cupcake liners and streamers I decorated with (and the cute straws) are all c/0 Green Party Goods. I wanted to host a giveaway with this post to help one of you plan your own party…..maybe your party will go a little more according to plan!

Prize: $75.00 gift certificate to Green Party Goods
One winner, chosen at random
Contest ends Thursday, December 1st, 9:00pm GIVEAWAY CLOSED
To enter: Visit Green Party Goods, then come back here and leave a comment telling me something you'd like to use for hosting a party

 I also wanted to share a few resources I used for my party:
Ornament and Chocolate cookies c/o JulseyMarie, use the code ashley15 to enjoy 15% off your order
Strung cupcake idea came from Cookie Monday
Ruffled Streamer idea & tutorial from MADE
Wood letters, little trees & green wrapping paper are from Hobby Lobby
grumpy attitude compliments of rain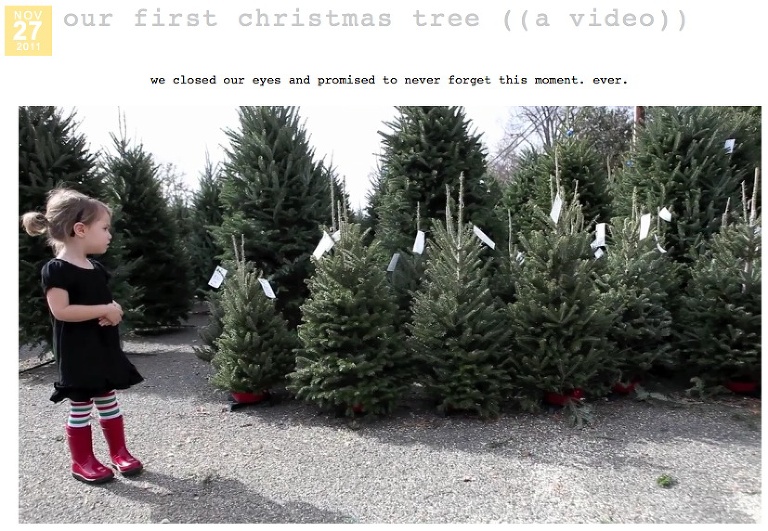 Last night I got a sweet email with a link to a precious video. The sweet girls featured are in the process of being adopted out of the foster care system. A first tree together. A first Christmas together. A perfectly perfect video of finding a tree and decorating it – this would have made my grumpy mood disappear instantly. Love this. Click here to be taken to Chris+Jen's blog to see the video. It will make your heart smile.
While you are at it, click here, to read about when Jen became a mama again. "Bianca Sparklewings"…best toothfairy name EVER.