I've written about my friend Amy before a few times. Her family is in the process of adopting a handsome boy – Davis. I find the adoption wait hard enough and I don't even have a name or face yet. Amy has a name. She has a cute face. Her family is ready to have Davis home.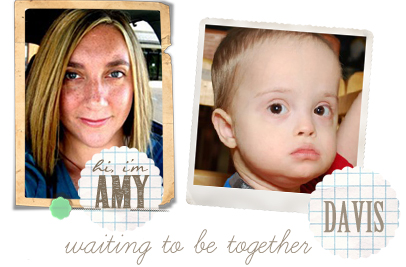 I've written about my friend Heather before too. Last summer we had a book party to raise money for the Joyful Life Library. An organization she began in memory and celebration of her son. Heather emailed me and asked if I'd like to collaborate with her to design a Christmas card to benefit Amy's adoption. Ummm….tell someone else what to do? Yep, I am all about that!
Not only did Heather and I collaborate, but Meg did too. So there are three card designs with proceeds going towards bringing little Davis home!
I made an idea board for Heather….because i think it is fun to make idea boards. And I have control issues. Here is the idea board I sent Heather:
Here is the first and only version she sent me. Perfect. She gets me.

Here is Heather's card….I need that stitched frame Heather!

And Meg's….rainbow and polka dots, of course.

I think Heather did a great job creating 3 cards that reflect our three different personalities and styles. If you are interested in helping bring Davis home by using one of these designs for your Christmas cards…well that would be awesome.
Heather has lots of other card designs in The Life Made Lovely Design Shop
For those wondering how it works…you pick the design, then send Heather the pictures, then she sends you the file to simply upload and order from your favorite print company. Easy Peasy.

And just for fun, I get to host a giveaway for 3 winners. Here's the details:
Giveaway Closed
Prize: Winner's choice of any Christmas card design in the Live Made Lovely Designs Shop
Winner: 3 winner's chosen at random
Contest ends: Friday, November 18th at 10:00am US Central
To enter: Visit the shop and come back to tell me your favorite design!