……I became Ashley Campbell.
You'd think at some point in the last ten years I could have moved our wedding pictures from the temporary albums to nicer ones. I pulled out a few my favorites to share with you. They aren't digital, so I took pictures of my pictures 🙂
Ten years ago, wedding photography is nothing like it is today. There were a few photographers starting the trend of more candid, story telling type wedding photography. I looked all over my area for a photographer that would capture my wedding day like the photographers on my yearbooks staffs captured student life. I found none. Most wedding photography back then consisted of about 20 poses that every photographer took. I ended up convincing two friends that worked with me on my high school yearbook to photograph my wedding. Thanks Kevin & Katie! I was a genius. I treasure these.
I look like I am about 12, but I was just about to turn 22. Some might consider that too young. It was right for us. We got married in a field…with crepe paper flowers.

My sweet friends and family helped me decorate the field the day of the wedding. I left to go take a shower and fix my hair about 2 hours before the wedding started.

Chris had more hair back then…not sure what that says about being married to me. Maybe that is the result of living with too many 'in process' projects.

We set up a white tent in the back of the field to wait to walk out…I tore a hole in it to peek out.

We look SO YOUNG! We were young. I hear people say you should wait to get married until you discover who you are and live a little life on your own. I am sure that works for some people. I am so grateful that is not the course we took. I've figured out who I am while I've been married. Chris has not defined me, but instead encouraged me and supported me as I've learned who God has made me. Instead of pursuing things on my own, I've lived a daily adventure with Chris. We've grown together and experienced life together. Moments and experiences have been sweeter because he has been by my side. Our first ten years together included welcoming 4 children into our lives…our greatest adventure yet.
It has been an amazing ten years. Not perfect, because we are far from perfect. We are still learning to love each other. We are still growing up. We still have a lot of life to live. But, I pray we get long lifetimes to do it together.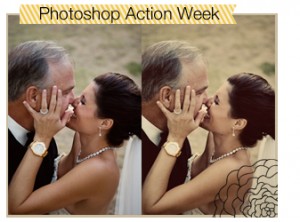 I used RadLab for these photos. Honestly, I was going to use something different just to share something new with you….but RadLab is so fun. You know when you get something new…you find any reason to use it? Well that is what happened. However, I do have some new actions and a giveaway to share with you tomorrow.
*********************
Just a reminder: The RadLab giveaway is still going on & the September SnapShop registration ends this week.