Do you remember a little while back I said I had an idea for the free "Live Your Life on purpose" download by Sarah Jane Studios? Well, here it is:
I really liked the print, and wanted to use it in a more prominent way. Rolled canvases are often less expensive than stretched canvases. I thought it would be fun to have it printed on a rolled canvas and then add a little embroidery thread for texture.
Supplies:
Sarah Jane's download (get it here) printed on a rolled canvas
Size 22 Needlepoint/Tapestry needle
Embroidery Thread ( I used DMC: 3805, 891, 604, 963, 743, 472….I also bought 704, 747, B5200 in case I want to add them)
After going through the needle, I tied a knot at the end of the thread. The strand ended up being double the thickness. Then I just started randomly adding it on top of the matching colors. There was no rhyme or reason how I stitched it. I'm not familiar with correct embroidery stitching…just did whatever worked for me.

She was given a new hat…and now wears it all the time.

You can see my stitching was crazy and messy.
It took me about 15 minutes…the amount of time I had to sit outside a bedroom door telling two little ones to stay in bed and take naps. I might add more to the green or the text, but those little ones fell asleep so I had to get tackle the mounding piles of laundry instead of continuing my little craft for the day.

You can see it is stretched a bit where I did the stitching. That was from my hand, I think it will iron out or work itself out fine. Thanks Sarah Jane! It makes me happy and reminds me to not waste my time, but be purposeful in how I spend it….even if the most purposeful thing I do all day is turn off my computer and phone to have uninterrupted Lego time with my kids.

So guess what….Uprinting is going to let me give away one 16×20 rolled canvas  print to one of you! You can download Sarah Jane's pdf and create this diy…or you can print whatever your heart desires (poster, photo, etc.).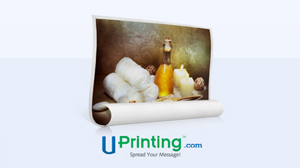 Prize Details:
One (1) 16″x20″ canvas print with 2-inch border or No border, 1 Business day turnaround, *Free Shipping from Uprinting
One winner, chosen at random
Contest ends Monday, August 22nd 9:00pm US Central
Restrictions: open to US residents 18 years and above only
Winner is Lauren who wrote: "I tweeted to vote now and a weekly update! Loving promoting this great event! Thanks for sharing!"
To enter:
Since this diy involves doing things on purpose…I am going to continue with that theme for entering to win. As you know, my family sponsors a little boy in Rwanda through Compassion International. Compassion also works to provide safe water to those in desperate need. Right now @Water (the twitter account) is having a contest to give over access of their account for one month to the organization with the most votes. I would love to see Compassion International gain that platform for a month to advocate their Water of Life program. So, in an effort to use this blog for a bigger purpose….here are the ways you can enter to win the 16×20 canvas:
1. Use your twitter account to vote for Compassion International here
2. Use your twitter, facebook, blog, email account to advocate for others to go vote
3. Find a way you personally can be involved in helping provide clean & safe drinking water to those in need
Now…just leave me a comment for each thing you did!
Disclaimer: This canvas printing giveaway is sponsored by UPrinting, no monetary compensation was given for hosting. Check out UPrinting.com for more details about canvas sizes, online printing & photo canvas.