Around our house…my sister drew a WonderWoman lego girl on FireCracker's cast. I didn't really ask Lesley to do it, I more told her she would be doing it. I still boss her around – that is what big sisters are for right? I don't think she minded too much. And how perfectly cute is that little WonderWoman!

A few things I recently picked up. The wire basket was $5.00. I was at a garage sell and the woman had an entire wall full of the best shaped primitive baskets. I asked her if she'd sell me one. She did. I don't have a lot of regrets in life, but I sure regret not asking her to sell me more!
Sweet P…my niece. I love her straight hair blowing in the wind. The dress she is wearing is the very first one my mom bought for FireCracker when I was still pregnant with her. It makes me smile to see Sweet P in it.
For the first time in their lives, Sweet P has the upper hand in their relationship. She can out crawl, out stand, out play my girl. Who knows, they might learn to walk together!
Powder paint on the trampoline. It washes away and it is cheap. Usually I just make paint, but we had this stuff on hand.
Twirling Betty & her daughter sent my girl the cutest little babies with their own handmade matchstick box beds. She and her older brother have not stopped playing with them.
and because you've been asking…..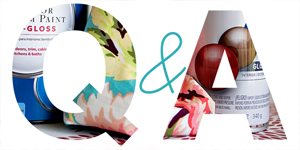 What is the fabric you've shown lately (teal with flowers)? Amy Butler Bliss Bouquet in teal
Is that a growth chart by your bedroom? Yes, from Pottery Barn kids many years ago
Where do you get the digital decorative tape you use on posts? Pugly Pixel
Where do you get the templates you use? Design Aglow
What is the frame you were painting? My yellow chicken wire frame
Who designed the wallpaper? Orla Kiely
How did you make the teal flowers? two layers of tissue paper, cut into a square, folded like a fan, edges rounded, tied in the middle, pulled apart & fluffed
Did the German magazine ask permission? Yes, but I totally forgot about it. I've been asked before on international publications, but I always forget to follow up to find the article…language barrier. I would have never remembered to search down a copy of that magazine for myself. My photos and content on this blog are copyrighted, so I do defend that when I find they are used without permission.
******************
So are my posts seeming a bit random – like a long run-on sentence? I feel like life in general is random right now. We are in this weird phase where normal life has changed, but we know it is only temporary so it is hard to fully adjust to it. The Cast will be getting a post of its own soon. I can't wait to see it go. I don't know how moms do this for even longer amounts of time. Today marks 3 weeks with The Cast. This weekend will be 6 weeks since our ER visit. It feels like it has been so much longer!
*******************
Tomorrow is GIVEAWAY DAY!!!!