I hope you all had a great weekend. I mentioned on Friday that I would share a tutorial on how I did the pictures above my mantle. It was super easy, so I never thought to share one before. However, many of you have been emailing asking for more information on it…so here you go: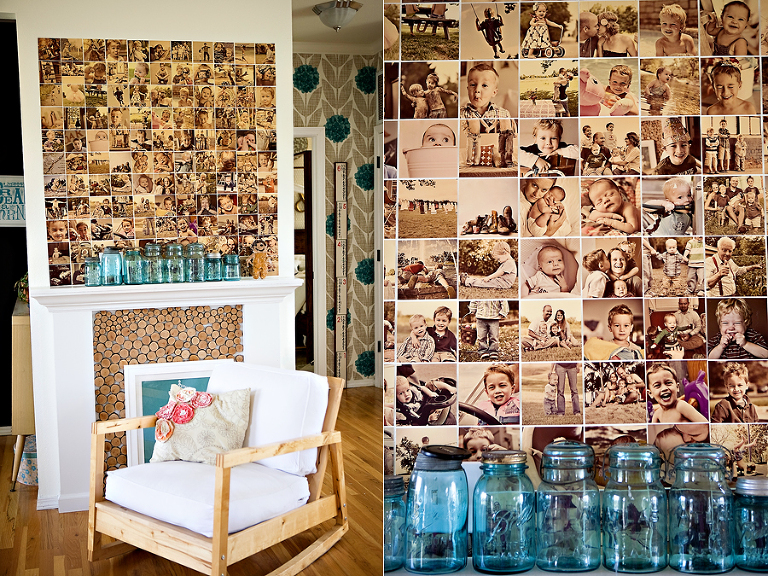 I started with my favorite pictures. I wanted them to coordinate a bit better in regards to color, but I didn't want black & white. I ran a Photoshop Action from Totally Rad Actions on each picture. Typically I tone down actions, but I ran this one at 100%. If you have actions, I recommend just playing with to get a look that you like. If you don't have Photoshop, you can do something similar on any basic photo editing software.
Next, I printed each picture as a 4×6 then trimmed them down to 4×4 squares.

Once I had my pictures ready to go I determined a center starting point on my wall. I measured height and width and found where a starting picture would go (taking into consideration a small gap between every photo). To attach the photos I put a tiny dab of hot glue on each corner of the photo. I started in the middle and then just kept going by eyeballing it to stay straight. No rulers, no straight edge…just winging it.
By putting the glue on the picture, by the time I got all four corners done the glue had cooled a bit. In my experience, if I put the glue on the item (not the wall), let the glue cool just a bit, and then attach it to the wall I hardly ever have any paint peel off when removing the item. I will note, that this is true for latex semi-gloss or glossy paint. With flat paint it seems to peel off. You also need to make sure your paint is very dry. Now, every home, glue, wall is different. You can also do a test area. I also figure by the time I take the photos down I'll be in the mood to repaint anyway – so if I do have some peeling it doesn't make me crazy.
I'd be lost without my glue gun.

Since the glue gun was already hot I thought I'd do a little Jedi Master repairing and reattach Saltdough Lego Obi Wan Kenobi's arm.
Too bad Anakin didn't have a glue gun. (and it is alarming I even understand that joke)
To bad glue guns don't work on little girls who keep getting up from their naps.

If you aren't comfortable hot gluing pictures to your wall, here are some other options:
1. Purchase a large art canvas and glue the pictures to the canvas.
2. Create a printed canvas in photoshop with The Show Off template from Design Aglow