Right before Christmas I got a lot of requests to do some pointers concerning using a flash for indoor pictures. I have some great equipment for setting up all kinds of flash lighting scenarios, but I've never invested the time into really learning it all. Most of my life involves a lot of motion so studio lighting doesn't really come in handy for what I do. I'd love to learn one day, but for now I just manage with my external flash on the fully automatic mode.
Most dslr cameras come with a built in flash (mine does not). If you take a lot of pictures in settings where you must use a flash I recommend investing in an external flash that swivels up and down and side to side a full 180 degrees both directions. I have a Canon 430EX speedlight and a 580EX Speedlight. Unless you want to really dive into flash photography I would recommend buying another brand like Vivitar instead of Canon or Nikon. With a flash you really just need a burst of light and the ability to swivel the direction it points in. In my not so professional opinion, buying a Canon or Nikon flash is really only necessary if you want to do more complicated flash photography…which I can't tell you anything about but I recommend checking out The Strobist.
Most dslr cameras have the ability to attach an external flash. There is a little metal bracket on the top of the camera (on top of the built in flash) this is called a Hot Shoe Mount. This is where the external flash connects to your camera.
This is what an external flash with a swivel head looks like: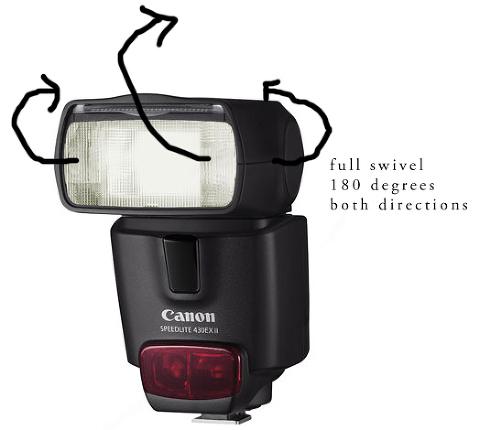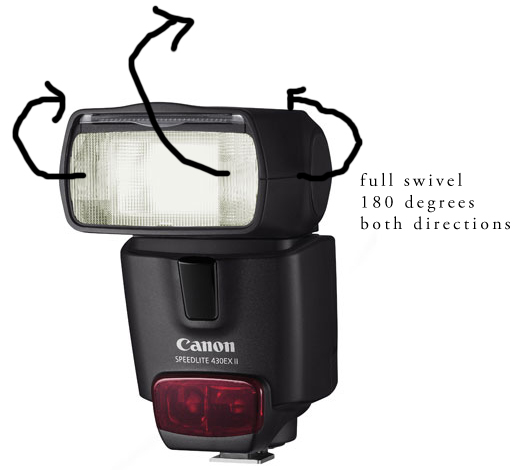 Christmas Eve Eve (the night before Christmas Eve) my family sleeps together under the Christmas tree. It is dark and necessary for me to use a flash. I thought I'd share a few examples in regards to using an external flash on automatic mode & your camera on automatic mode.
The first three examples are related to how a flash can ruin the 'setting' of an indoor photo. The first photo is too blurry because once I turned off my flash my camera slowed down my shutter speed. This meant my hand was not steady enough to take the picture without getting a blurry shot. The second photo is with the flash and it is just all around yucky. The third photo I turned off my flash, manually chose a slow shutter but set the camera on a chair for stability to prevent blur.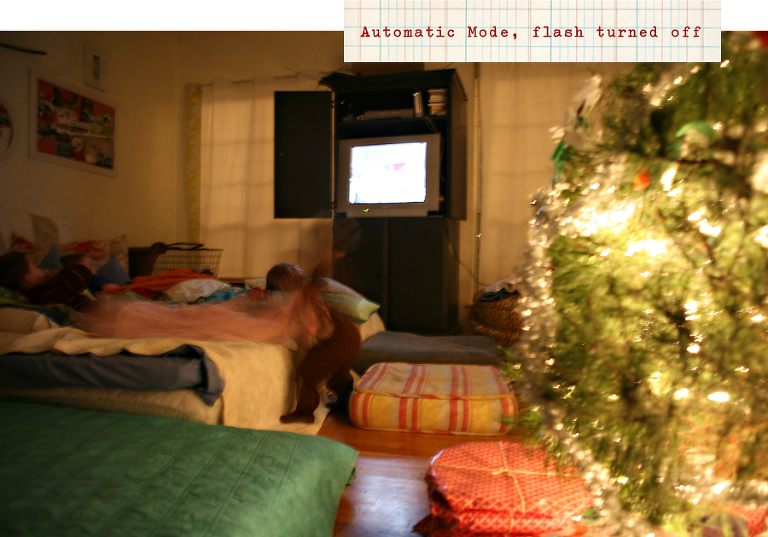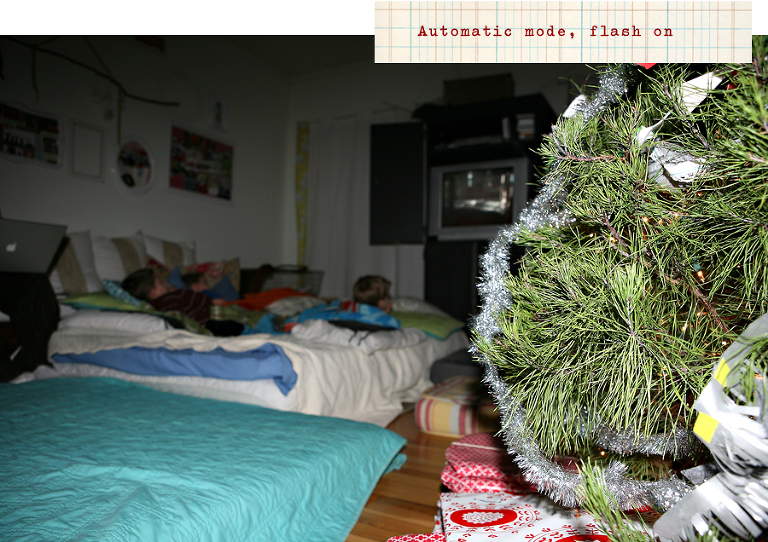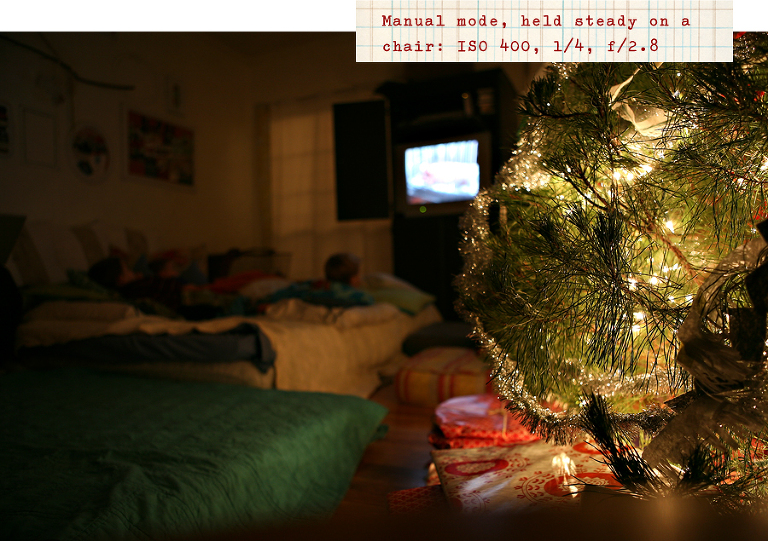 On these three photos I will show you how using an external flash with a swivel head yields a totally different result depending on where you point the flash. A major thing to keep in mind when you change the direction of your flash is that it will reflect whatever color it is pointed towards. If you point it towards a taupe wall, you will get a taupe feel to the photo. If you point it at a blue wall, your photo will have a blue hue. It is best to point towards a white wall, sheet, poster board, etc. If something white is not available you can use a diffuser (ask about it at your local camera store).
Secondly, keep in mind where you point your flash determines which parts of your subject receive the most light. Since most ceilings are white, it is common for people to point their flash up at the ceiling. This can result with a great photo, but it can also result in 'racoon eyes' or eyes that have dark circles around them because they aren't in the direct path of the light coming down after it hits the ceiling. You can see the difference if you pay attention to my son's eyes in these three photos.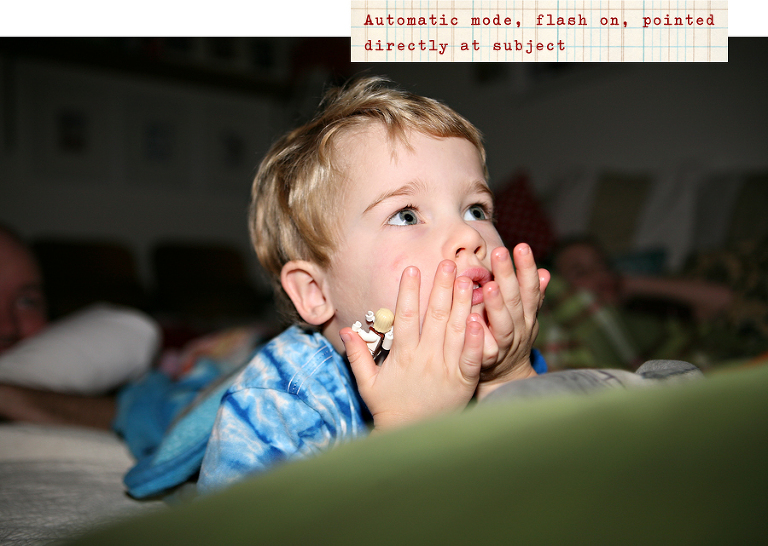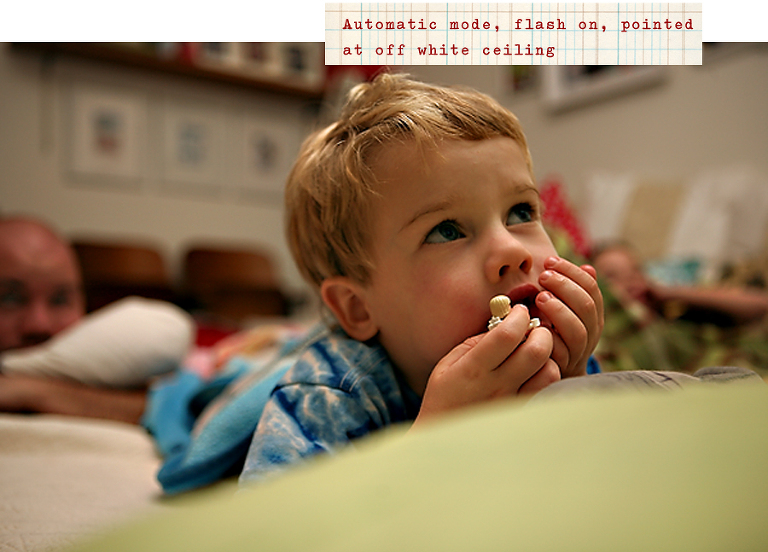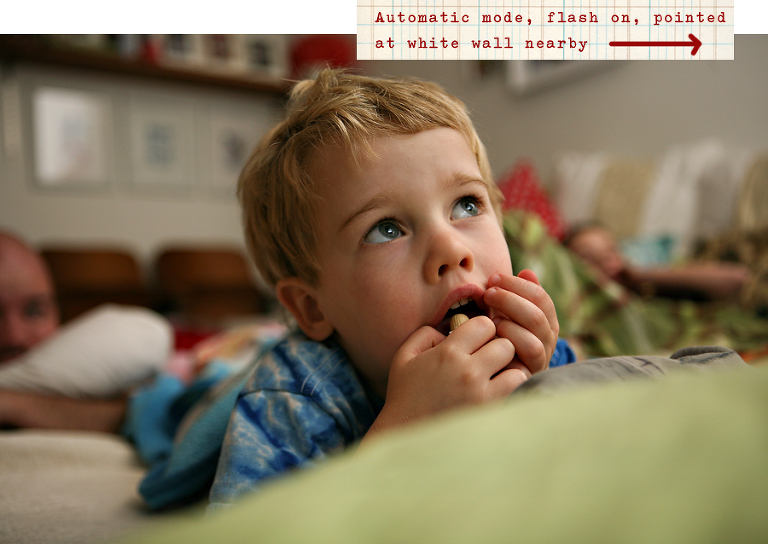 Though the first photo of my son has great color and clarity, the direct flash took away the background and makes it a harshly lighted photo.
Well those are all the example photos I took because coming up with a photo tutorial for my blog was not my priority….eating popcorn on my bed with 5 other people watching a Christmas movie was much more important. Hopefully those few photos and tips will help you a bit.
Here are a few other random photos from the night: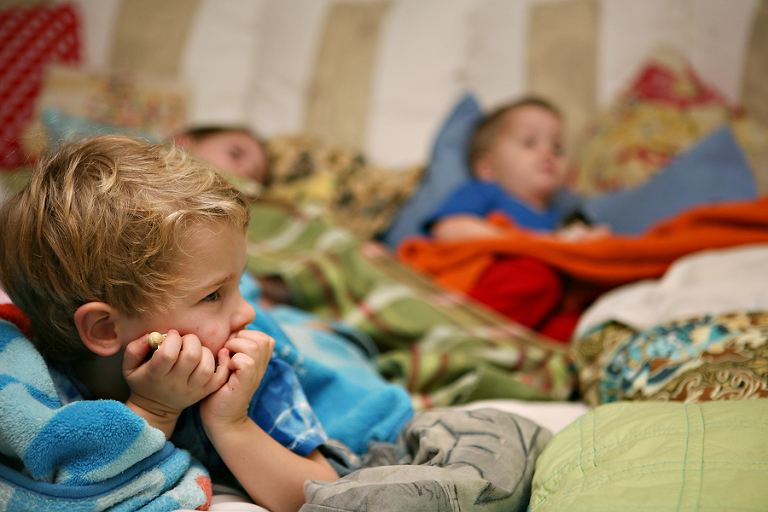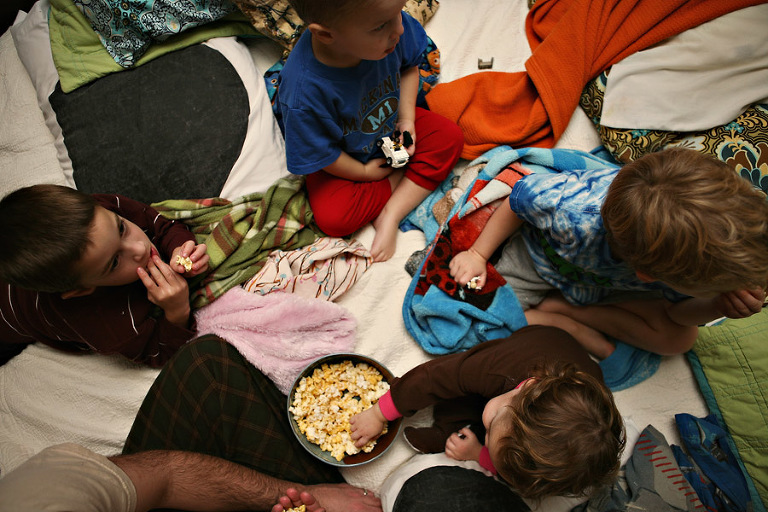 After bath curls….makes my heart melt.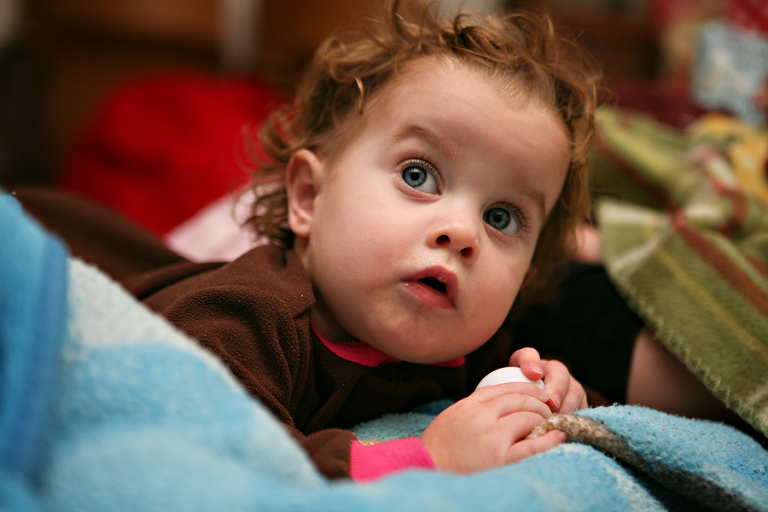 Her dainty ladylike ways of eating…makes her brother's hearts melt.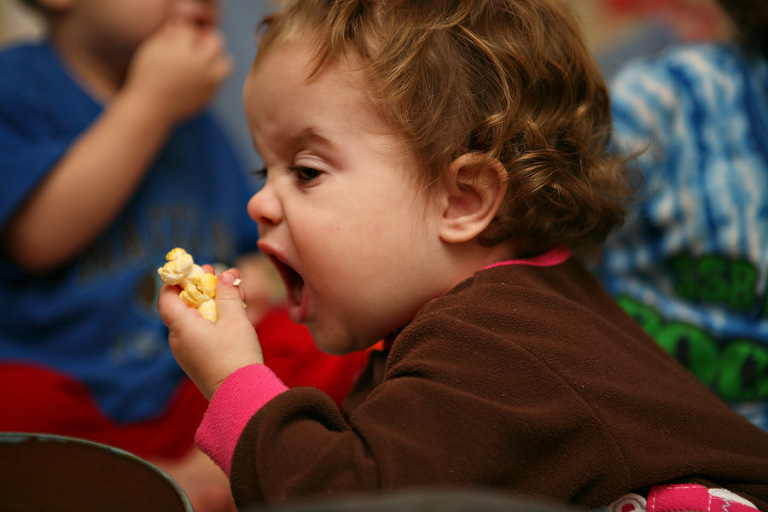 I know this photo is completely blurry. I am a quick photo deleter at most signs of blur, but this one I just don't have the heart to delete. Could be my favorite Christmas Eve Eve 2010 photo.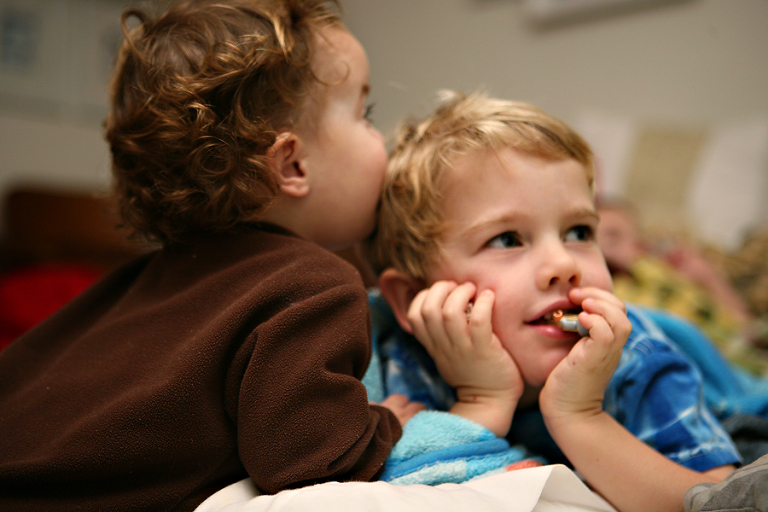 And yes….my 4 year old cuddles Lego Luke Skywalker at all times….cuddles and chews that is.
I'd love to hear your feedback on if this post made sense!