I write a contributing post to two different blogs each month. How I ended up doing these for two blogs with similar names is beyond me. I realize it is confusing for those of you that are not regular followers on those sites. Once a month I contribute a DIY post on Design*Sponge and one on Design Aglow. The two sites are not related to eachother…other than the fact you can get inspiration overload from both. Design Aglow is a resource for photographers. For my posts on Design Aglow I am using their products in a non-conventional way. Today my most recent project for Design Aglow will be published. Though the focus is some of their templates you can find ideas for gift wrap on it as well. If you are looking for beautiful gift ideas I recommend visiting The Giver's Log.
So here are a few 'behind the scenes' of my Design Aglow project:
When you have young kids people always tell you that you are going to miss it when they grow up…they say it whenever you want to complain about something. Well you know what…I am out of the pacifier stage and I don't miss crawling around a nursery floor in the middle of the night trying to find one. I am on the verge of being out of the highchair phase and I've never been so excited to get rid of a piece of furniture. When I am trying to be creative I have 2 little ones unrolling ribbon, tearing my beloved Amy Butler paper, dumping glitter and all in my business. I don't think I'll miss this type of contribution to my crafting.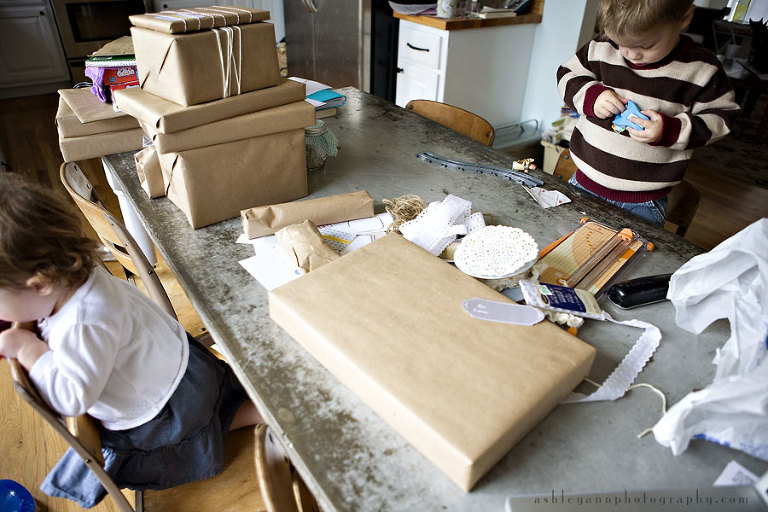 She kept stealing a package of trim to push around in her stroller. If you put a doll in the stroller she throws it to the ground, but she loves pushing my stuff. When I went to retrieve it – disappeared. I still don't know where she stuck it…
The second photo is what it looked like when I was photographing the gifts for the Design Aglow post. I stood between the window and the table.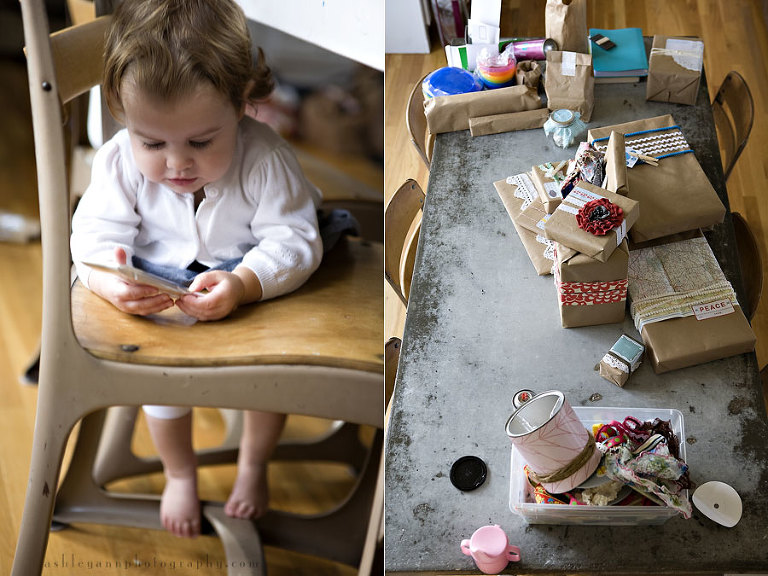 The project involves gift wrapping. My mom had bought FireCracker an adorable little shirt with polka dot sleeves. She wore it all the time and then got a massive stain down the front. It was beginning to be a crop top anyway, so instead of throwing it away I cut up the unstained pieces to save in my scrap fabric bin. One of the sleeves came in handy for this project.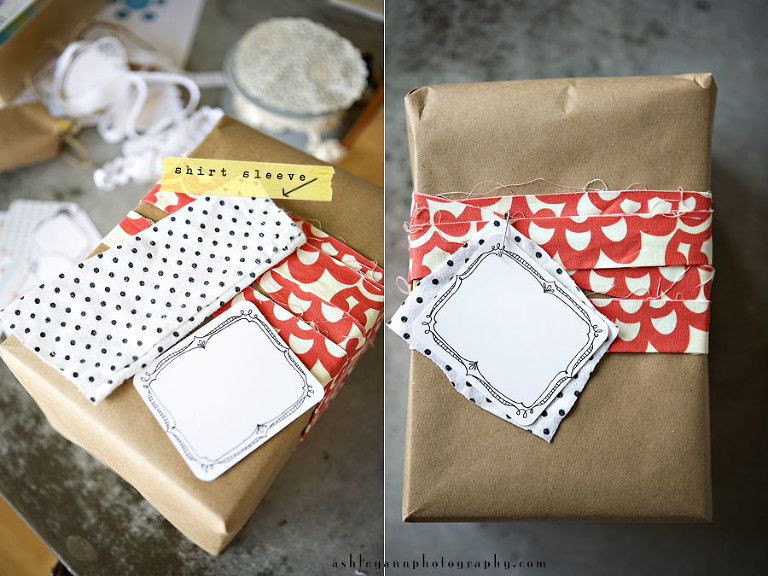 You can visit Design Aglow to see the full project and details.
In other news, I was a long time Facebook holdout. Not anymore. This week I have figuring out how to enable others to share pictures on my wall. I've asked those that follow my Facebook page to share pictures of things they make that were from tutorials I've posted or inspired by something on this blog. I can't tell you how fun it is for me to see these pictures. Every now and then someone will email me a picture or send me a link to something they have made, but it doesn't happen often. It is fun to see that some of you actually try the things I post here. I wanted to share a few of the pictures from the Under the Sycamore facebook page.
I will note you have to "like" the Under the Sycamore page to get feed updates. If I am only your 'friend'…you'll never see any updates because I don't update my Ashley Ann Campbell wall…just the blog wall.
Onto some reader pictures:
There are so many more pictures on Facebook, but I wasn't sure if the owners wanted me to share them here. I will share a blog link to a beautiful shower…but the Facebook ones you'll have to go check out for yourself.
Have a great weekend and don't forget to check out the Design Aglow post!