I've been having 'issues' with one of my babies. Sadly, I knew the problem was beyond my realm of understanding or ability to fix. I got lots of recommendations from friends I trust and I loaded up the car to meet a woman who could hopefully help me. Before I left I told Chris I really wish she had a NannyCam so I could check in throughout the day to observe what was happening. Driving to her place I was so nervous. I didn't know her. Could I really trust someone I don't know with a part of myself? I pulled in, parked the car and slowly walked to her door. I could see her smiling through the window. She was petite with little hands and her face was full of wisdom. I explained the issue we were having and she said she could help. I trusted her. With a bit of sadness and hope for a bright future I left. She said she'd call me soon to let me know what will need to happen…..I miss my camera. 🙂
Yeah, my LCD went out on my main camera. My point and shoot went for a little unprotected dive in the Pacific Ocean so I don't have it either. I do have a backup dslr, but I get frustrated with it (yes, I know that is totally snobby to say, but I'm just being honest). A friend gave me an unused iphone. It isn't connected to phone service, but it takes a fun little picture. I've been using it a lot lately.
Thanksgiving is around the corner. Our church is collecting food for Thanksgiving baskets to pass out to those in need of a little help on the holiday. The boys always enjoy shopping for the food to donate. This year we invited Chris along. I try to be very intentional about including the boys on things like this, but I'll be honest it is so much more work to involve the kids. There are moments I question whether it is really worth it. Not whether it is worth it to donate food (because it obviously is), but is it worth all the hassle to include my kids in the process.
As we pulled into the parking lot a DOWNPOUR started. We had one semi-broken umbrella for the six of us. We made it in the store completely soaked. Is this really worth it? The boys were so excited that instead of walking down the aisles, they were dashing to see who could get to the food first. Is this really worth it? Littlest Brother wanted in and out, in and out of the basket. Is this really worth it? "You've sure got your hands full," a well meaning lady said. Is this really worth it? They boy's argued over who got to unload the shopping cart. Is this really worth it? The kids had fun, but I was stressed. Is this really worth it?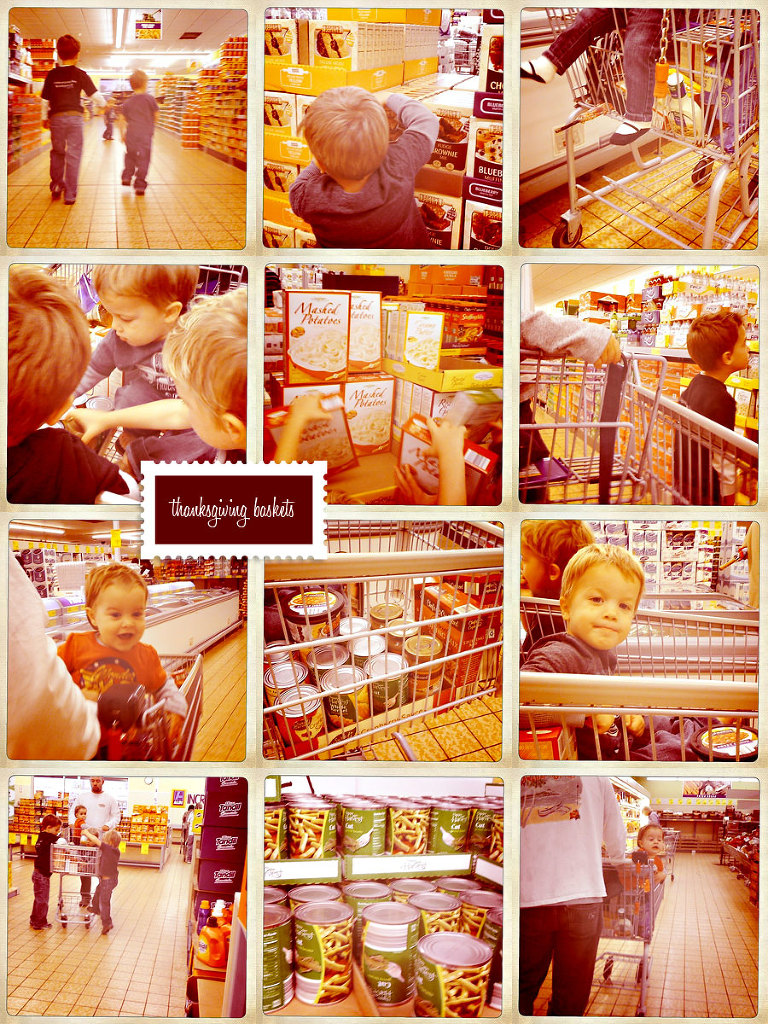 After getting everyone dressed and the food bags packed on Sunday morning the boys all decided they wanted to carry a food bag. Instead of 2 heavy bags I now had 1 heavy bag, 1 medium bag and 2 nearly empty bags to carry into the church…along with diaper bags and a baby….without Chris (he gets there before we do). Is this really worth it? A friend saw us and he offered to help. Littlest Brother sat his bag down in the middle of the parking lot because he changed his mind and didn't want to carry a bag. Is this really worth it?
We dropped off the food in the first grade classroom. Later my son declared his class did not win an ice cream party for bringing the most food. He was bummed about ice cream. Is this really worth it? I reminded him we didn't take food because of an ice cream contest and asked him why we took it in the first place. "We took it so people that don't have food can have some. We took it to help others." It was worth it.
*****

I know this post might seem a bit negative, but it just realistic. Getting my kids involved in things that make them aware of their world and ways to impact it is of crucial importance to me. However, just because it is important to me doesn't mean it happens easily and we always have rosy experiences. With young children it involves work, patience, dedication and usually a bit of stress. A lot goes in right now on my part and it usually doesn't feel like much comes out….but I am confident what is hard work today will be more than worth it in their tomorrows.