I have a file box full of tear sheets of projects I'd like to try. In January 2006 (yes, that was nearly 5 years ago) I pulled out an article from Martha Stewart Living on Dot-Painted China. The minute I saw it, I knew I wanted to try it. I've meant to do if for quite a while now but I was stuck at finding the paint. I know craft paints, but I just never seemed to find the time or remember to look for paint for china.
I've gone to a few of those paint your own pottery places and honestly am usually disappointed with the results. The paint seems to be too thin and not as detailed as I wanted. We are a form & function house, so I needed something easy to clean and durable. FINALLY I found the perfect paint. Martha did not share with me in her magazine the pointers for finding the paint supplies, so I will share with you what I have found that works.
Supplies:
China, Ceramic, Porcelain….it needs to be able to go in the oven and cook at 350. My bowl is from Walmart, plate from Target.
Pebeo Paints:
Porcelaine 150 1.2 paint pen – for larger dots
Porcelaine 150 0.7 paint pen – for smaller dots
Porcelaine 150 paint (comes in a small little round container)
Porcelaine 150 outliner (comes in a small tube with fine point end)
There is also a little set that that has applicator bottles and fine point end you can attach to the bottle. This works great for making dots and fine details with the colors of paint that don't come in pens.
You can get the paint at Micheals, dickblick.com, and other craft stores.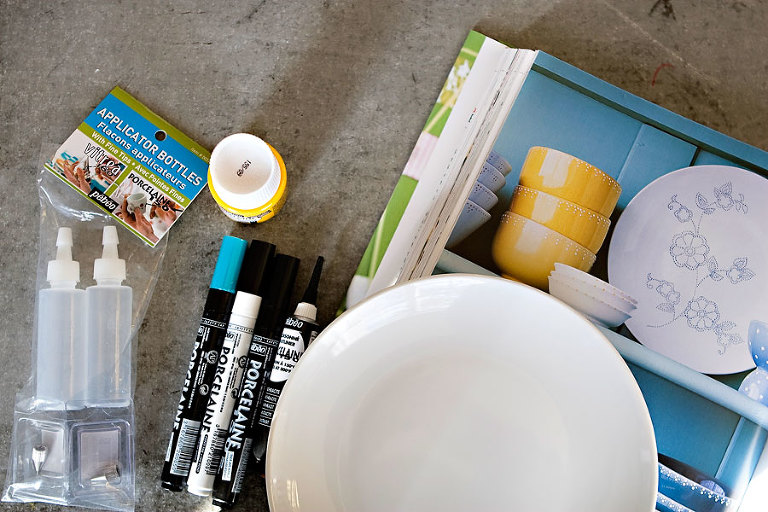 Martha has tips for transferring a pattern onto the china before painting it. For me that was just another step to figure out, so I skipped it and just started freehanding it as I went…while looking at Martha's designs for inspiration. I started with the large paint pen to get the basic design and then filled in details with the more fine point pen.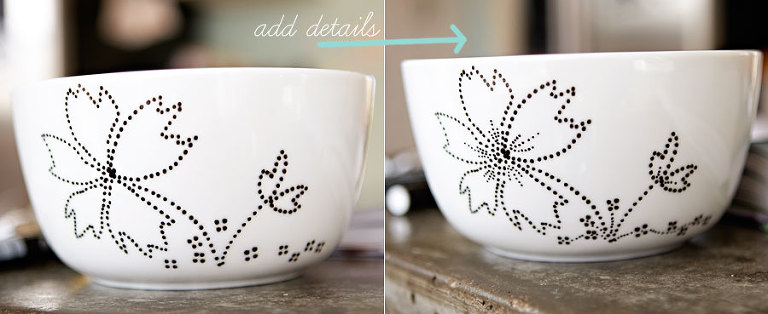 After you finish painting the dish needs to dry for 24 hours. Once that period is over you cook it in the oven for 35 minutes at 300 F. Double check your paint instructions, especially if you use a different brand of paint. Also be sure to remove any stickers from the bottom…you don't want to cook those!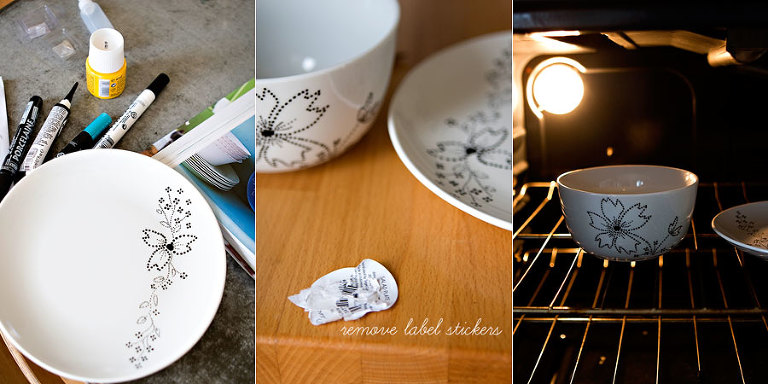 To keep it real…I painted these with a 1 year old on my lap. She is still working on cutting 4 molars and really likes to be held. I took this picture to remind me one day of what creative endeavors were like during this phase of life. One day I won't have little ones on my lap when painting…I think I'll be okay with that.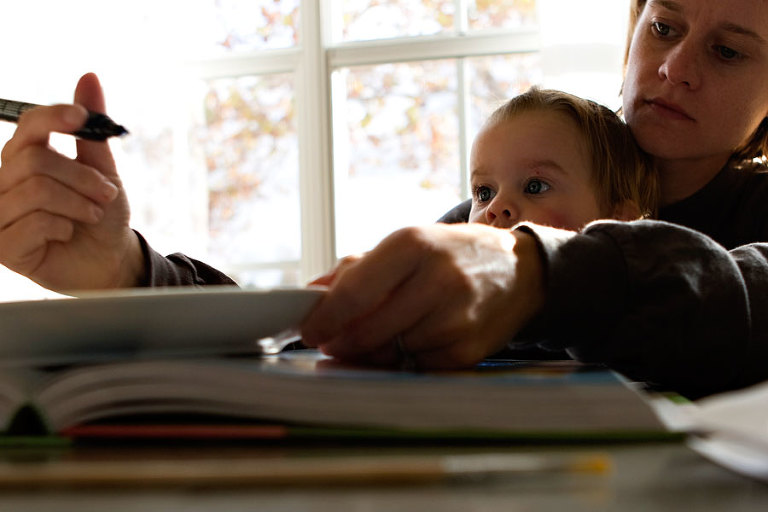 1,000,000 ways to make this cute as a gift.
There are so many ideas floating in my head now, you'll be seeing a lot more of this kind of stuff soon!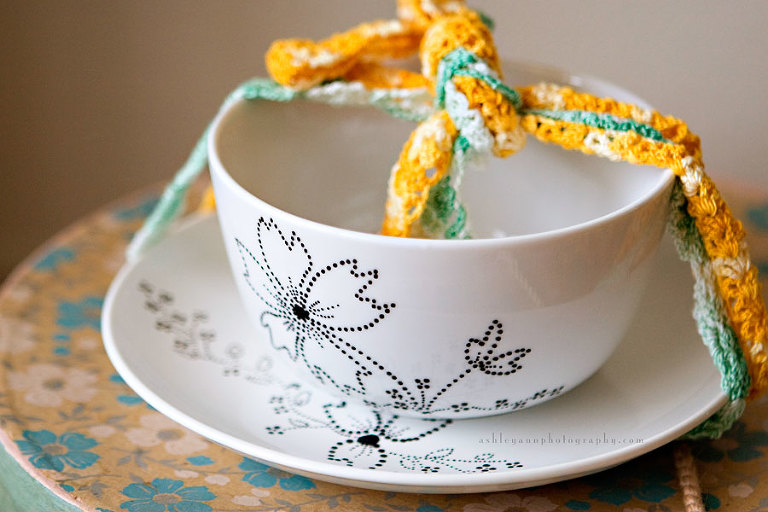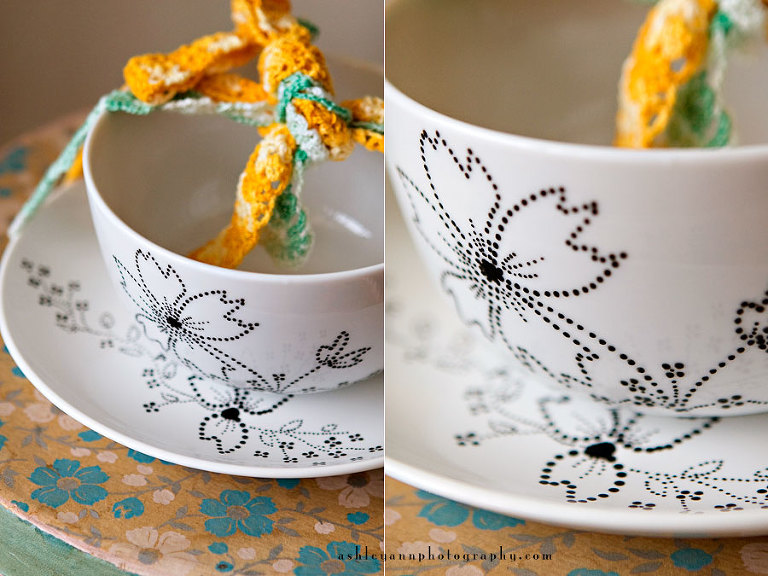 Keep in mind not all paint is food safe. I'd do most of your painting on the outside of bowls, cups, mugs. If you paint the top of a plate like I did, you can use it to serve wrapped food (like cupcakes) or use it for decoration.
*****
In other diy news, my monthly post on Design Aglow will be up sometime today
…what my 'studio' looked like to get the product shots 🙂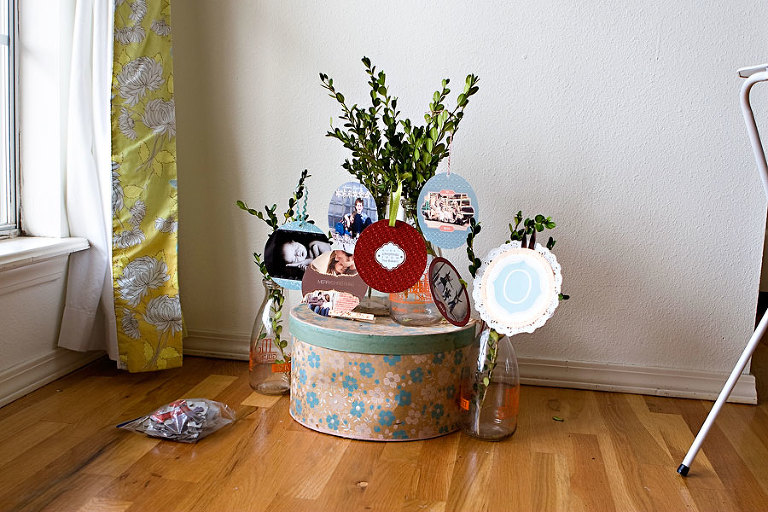 Have a Great Weekend!!
UPDATE: If you make a mistake it is super easy to correct. The plate you see in the post was actually my practice plate. It was full of all kinds of colors and designs. Once I was done practicing I just washed it all off and started over. The paint can be washed off until you bake it…then it is set for good. My plate has been through the dishwasher too…and still looks quite lovely.

Save