One of my daily online stops is Smile & Wave. Rachel's blog is full of all types of lovely things. My favorite posts of Rachel's are peeks into her home. Her home is even better than her blog – if that is possible. She has such a fun eye for design. It is very vintage, but with a modern and streamlined touch. Sometimes I want to remove everything in my home and ask Rachel to come redo it all for me. I am extremely jealous of all her great mid-century finds and her ability to sew anything. I also enjoy reading the things Rachel writes about her friends. It is evident that she is a loyal friend that deeply loves those that are close to her.  And for a totally random fact…Rachel was at my wedding. I didn't know that until last year.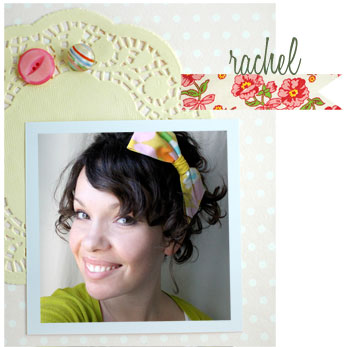 My name is Rachel Denbow and I share my version of young motherhood in a world of vintage on Smile And Wave.  My husband and I have a preschooler and an eleven month old and live in a crooked old house on a slanted street in the middle of the country.  I spend my days teaching online classes, singing the wrong lyrics to radio songs with my son, shaking my head at the messes, and keeping our little forager from swallowing bits of fabric and yarn that land on the studio floor.  I make a mean french pressed pot of coffee and have a sewing machine tattoo on my right shoulder.  I love to capture the strong moments between my kids.  They are probably going to be better friends than I could've imagined.  I have a weakness for vintage floral sheets, typewriters, globes, and kitchenware, and share Ashley's addiction to lonely chairs.  I am continually thankful for this online medium and the ways it's expanded my creative horizons and for the second chance it afforded me to get to know the creative genius of Ashley Campbell despite two years of sharing the same college campus in Oklahoma!  Ashley, you're one of my favorites and I appreciate the chance to share a little bit of the random pretties from my home on your blog.
Here are ten colorful peeks into life at our house this week!