Thanks for your feedback on the Tea Collection photo…the big laugh and standing pictures were the top choices. I think I'll just have to enter one and Lesley can enter the other!
I decided for a personal challenge over the weekend I would not pick up my dslr, but every photo I took had to be with my point & shoot on fully automatic mode (well with the flash turned off that is). That is very hard for me to do. I never like my point & shoot photos as much, but I do like the challenge.
Big Brother loves to swing, here is a different angle than I usually shoot. The point and shoot is great at capturing action and dealing with harsh sun – or shooting directly into the sun in the middle of the afternoon. He has the hairy, hairy legs for a 4 year old!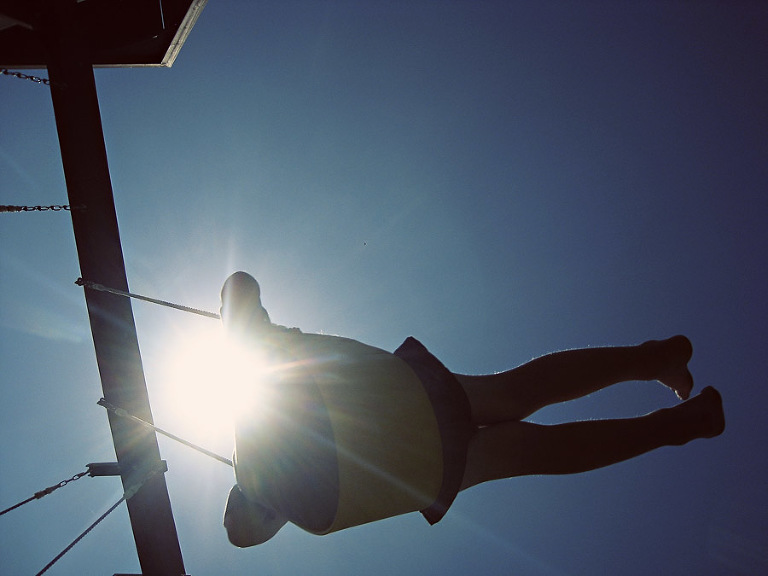 I convinced the boys to go on 'an adventure' with me. I told them they could bring their swords and we'd see a teepee, old houses and a little creek. I did not tell them that we were going to an old flea market village that is working on coming back to life with new vendors. Tulsa folk – Persimmon Hollow is on 71st just east of Garnett. There aren't a lot of vendors out there yet, but it has great potential! I scored some vintage tins for $.25 each….you will be seeing those on a special post soon. Hmmmmm.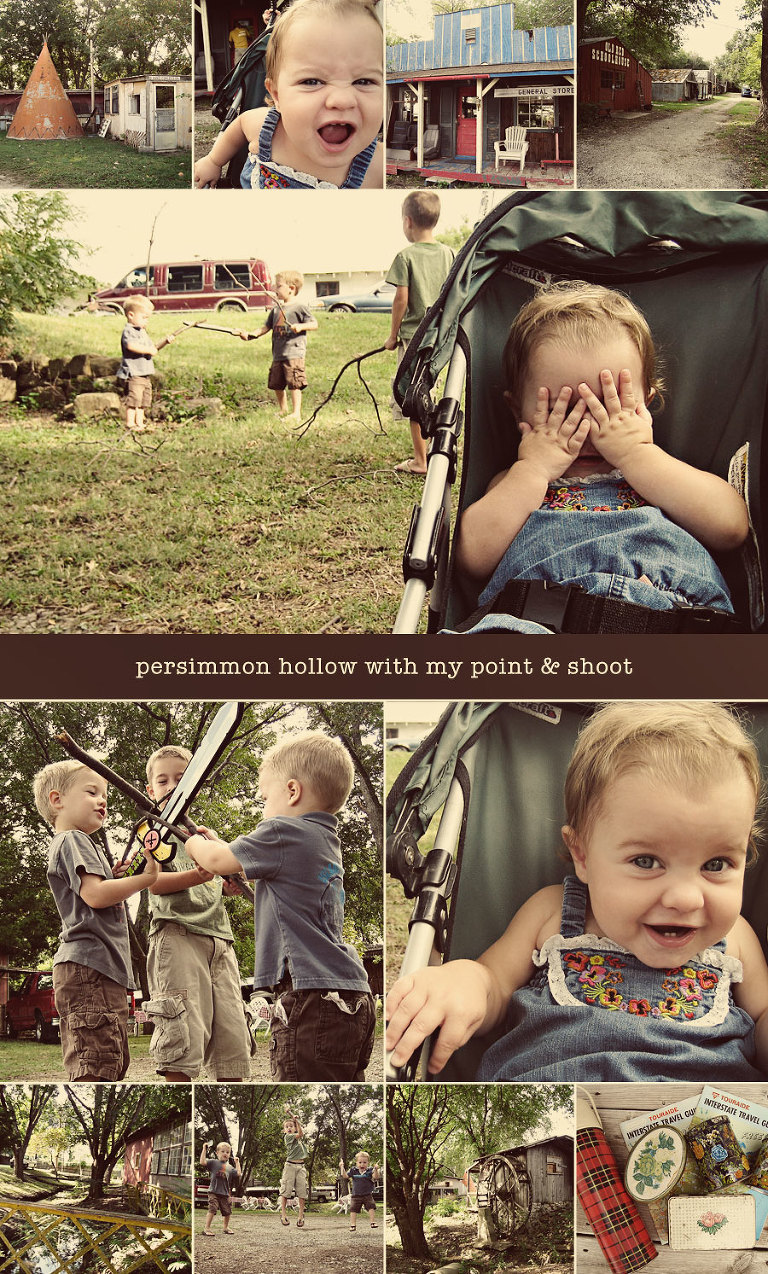 PHOTO TIP: The thing about automatic shooting with a point & shoot or a dslr is you are at the camera's mercy. The camera is deciding what kind of picture you want instead of you telling the camera what you want. There are ways to 'trick' your camera on auto mode (whether it is a point & shoot or a dslr). For example, in the two photos below you will see a huge contrast in lighting. I wanted a pic of FireCracker so I just focused on her (pressed shutter button halfway down) and took the picture (pressed it all the way down). The camera took into consideration all the bright light in the background and set the exposure according to that light. When I saw how dark it was I re-shot the picture. On the second photo, I focused on the stroller wheel – pointing my camera down so the sky wasn't in the screen. After I focused on the wheel I moved the camera up without releasing my finger. Once I had FireCracker in the frame I fully pressed the shutter button down. This time the camera set the exposure for the area the stroller was in, leaving the sky overexposed. You can't see the blue sky in the 2nd photo, but you can see my cutie. I decided the cutie was more important than the sky, the camera had chosen the sky.

And just because….this mommy greeted me when taking out the trash. Mommy crawdads carrying their babies will never cease to creep me out.
My point & shoot takes great macro shots.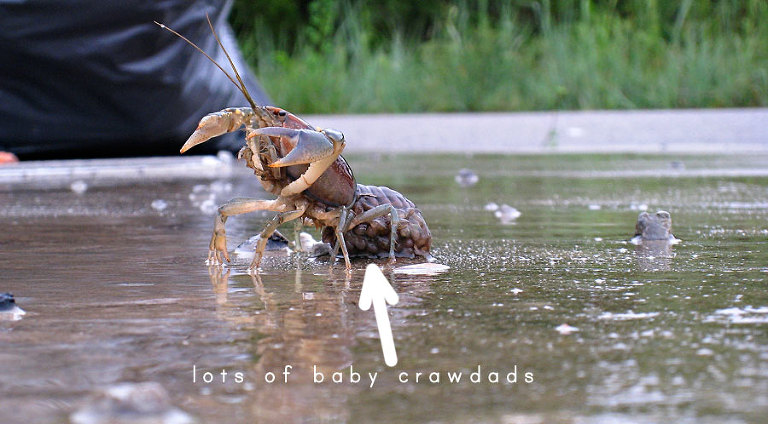 She is actually the size of my palm, I think this pic makes her look bigger. I told Chris not to run over her when he backed out…she was carrying her babies afterall. He asked if I'd feel the same way if it was a frog carrying her babies. I reminded him frogs don't carry their babies…..
We don't watch enough tv to make it worth spending money on cable, as a result I only know the shows that are on the main 5 networks. You all mentioned something about American Pickers on my Skeeters post last week. I had never heard of it. Chris and I found full versions online and stayed up way too late watching them. I emotionally connected with Frank and his love for old cans. Thanks for the letting me know about that show….now I have something new to watch online and a new dream job. I suppose American Pickers can replace my beloved LOST now…there is mystery and adventure in both.