When I said these would be simple FAST projects I wasn't kidding! I don't drink my coffee black, I girlie it up with cream & syrups. The syrups always come in great bottles…perfect for bud vases. Here is a quick craft for keeping glass out of the trash and cutely displayed instead! I am almost embarrassed to actually post this because it is so simple, but hey this one is for the moms that have about 4 minutes to craft…

Step 1: Get your bottle
Step 2: Clean your bottle
Step 3: Wrap several layers of masking tape around it, trim tape with an exacto knife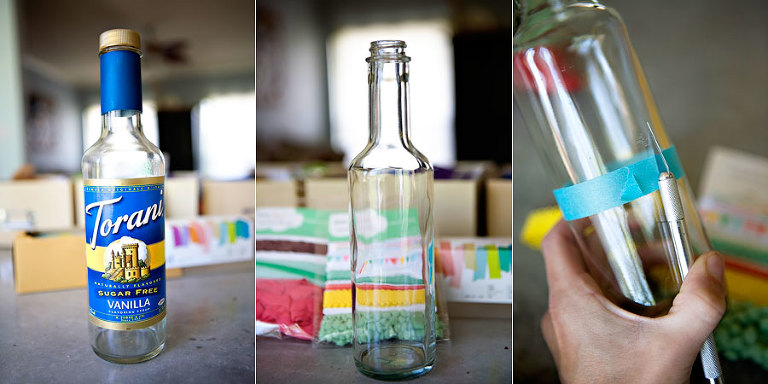 Step 4: Add a band of scrapbooking paper, use double sided tape on one end to hold it together
Step 5: Add another layer of tape to keep the paper secure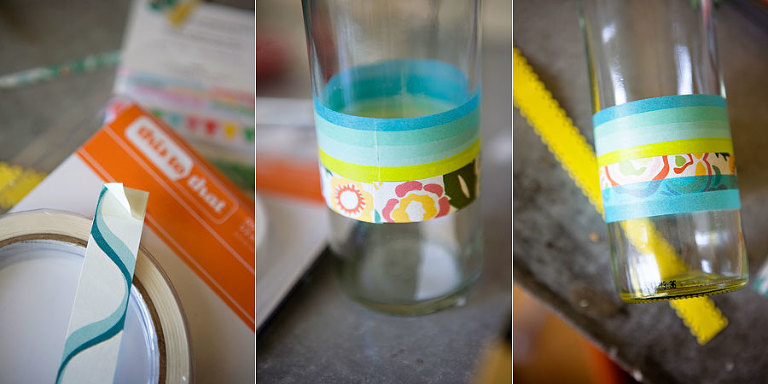 Step 6: Add some cute ribbon trim. I used a paper trim and held it in place with double sided tape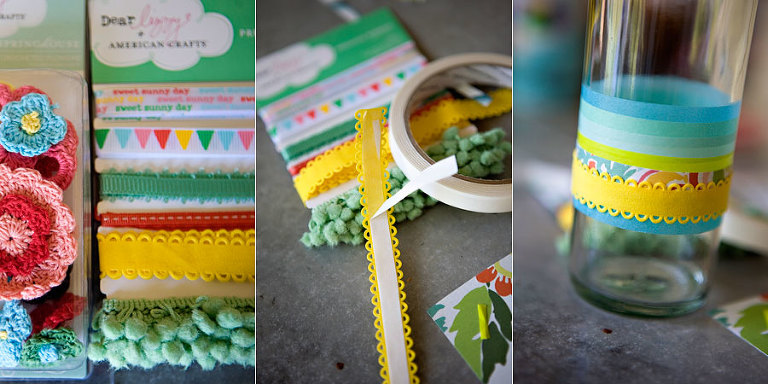 Step 7: Add a thinner piece of trim and tie in a knot
Step 8: Find some pretty flowers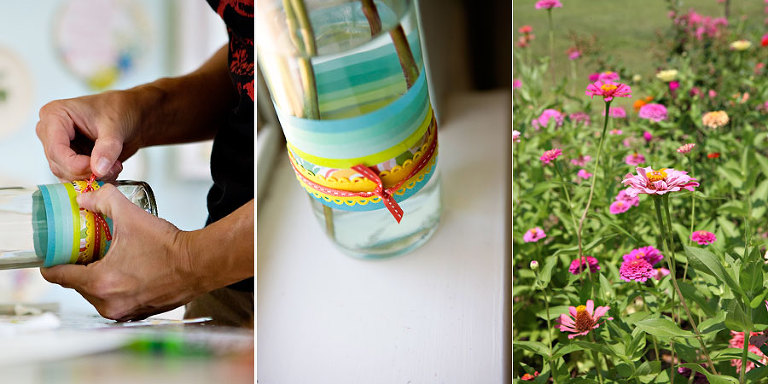 And you have one cutely re-purposed syrup bottle…and one that matches my blog background (thanks again  Katie Daisy)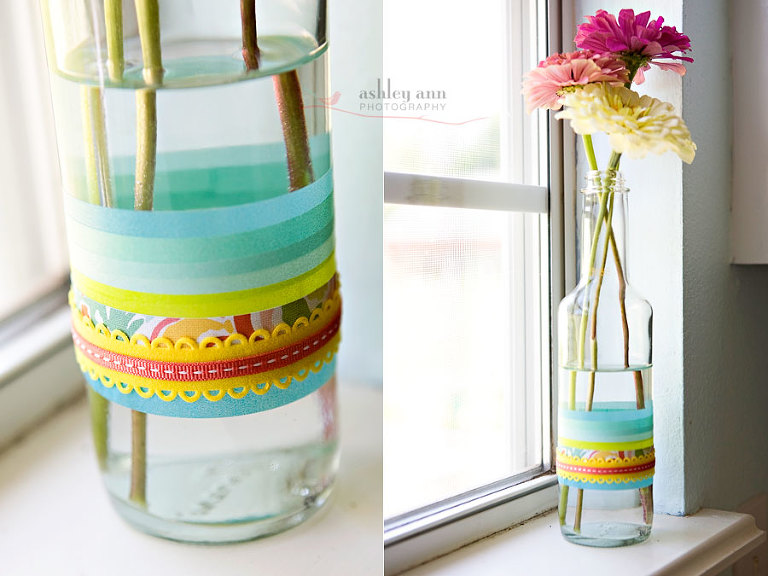 .
.
I have been asked A LOT about how I get pictures with me in them, in focus and using the self timer. Well it is all about my focus button. The default focus button on your camera is your shutter button. This means you press it half way down to focus and all the way down to take the picture. Having one button serve two functions can be annoying at times. Have you ever tried to focus on something but your camera goes back and forth and just won't focus where you want AND take the picture? One solution to this is to change the focus button on your camera. I can't tell you have to do this for all your cameras, but you should be able to do a Google Search to find directions. In camera terms in it involves changing your "AF" button. On most of the canon models you can find it in your Menu under Custom Functions. I believe it is Custom Function 4. It should say "Shutter/AE lock button". I use option 3 "AE/AF, no AE lock"
I will say there are differing opinions on using back button focus. I love it and will never go back. It does take a little while to get used to it. Try it out, do some Google Searches and you can find all kinds of discussion boards about the pros and cons…and better descriptions of all the AE/AF options. This only works on manual modes. If you are an automatic shooter it won't work.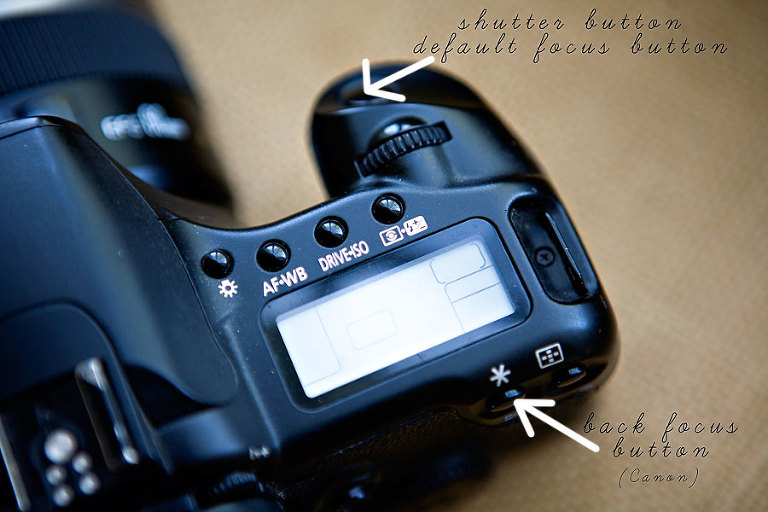 Here is a play by play on how it works. The back focus button only works when you are in the manual shooting modes (Av, Tv, M, P, S, A). Here is what my camera did on fully automatic when I tried to focus on the area of the table I would be standing. It wanted to focus on my son's hand moving in front of the camera…and the picture is DARK.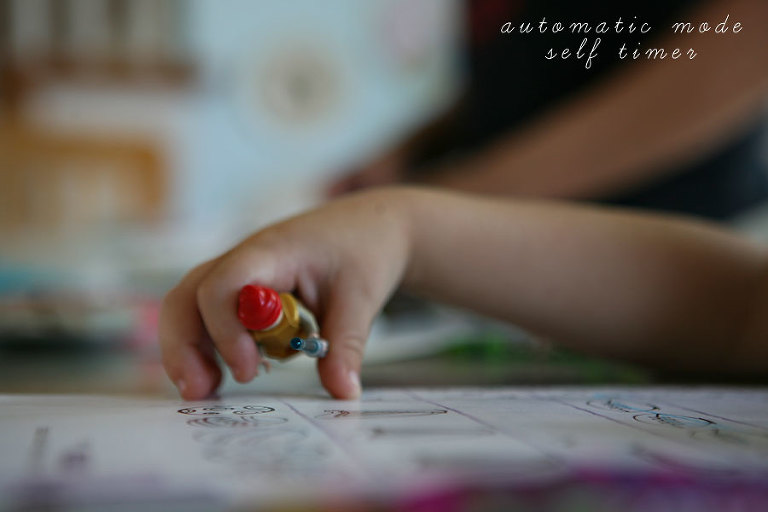 This shot is using manual settings, the back button focus and the self timer.
In order to get in self timer shots, I set up the picture and focus on an object that is the same distance from the camera as I will be.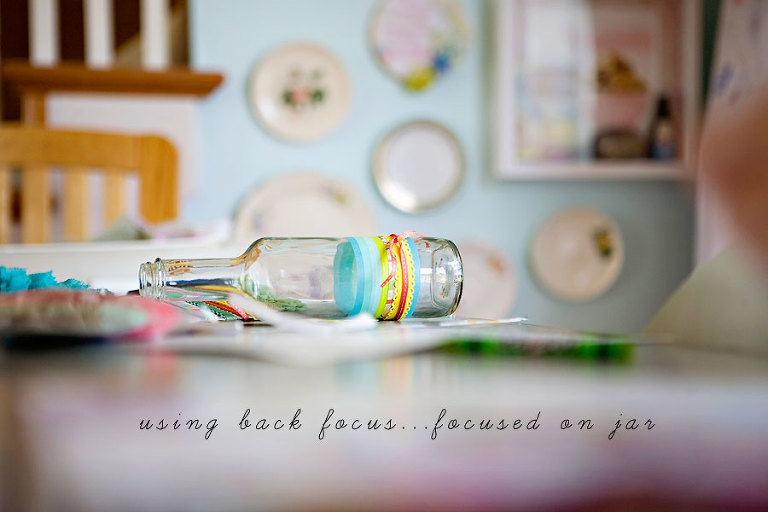 Once I have everything set up, I use the self timer again and I step into the picture. Depending on my aperture setting, I am careful not to change the distance I am from the camera compared to the object I focused on.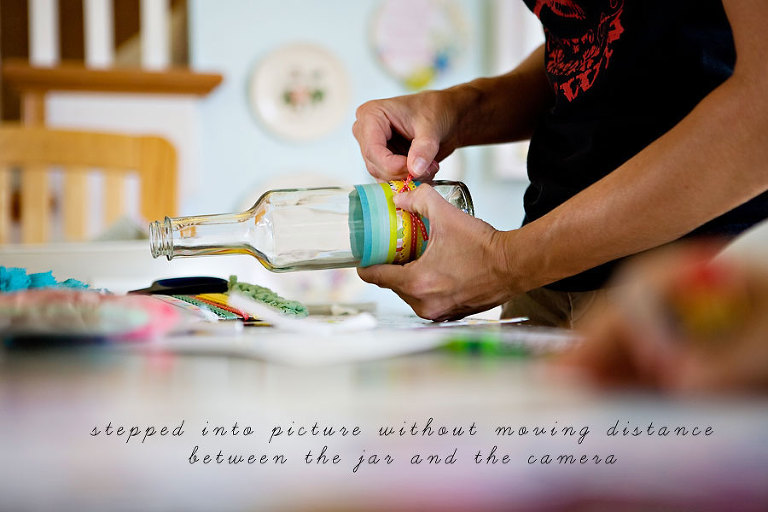 Another great aspect of back button focusing is your camera doesn't jump around when you try to focus. I can still focus on exactly what I want using automatic lens focus (with manual camera settings). It can be so annoying when your focus and shutter are the same button!
In this picture, the camera is set on automatic mode. I was trying to focus on my son, but the camera kept jumping to focus on the crayons in the back.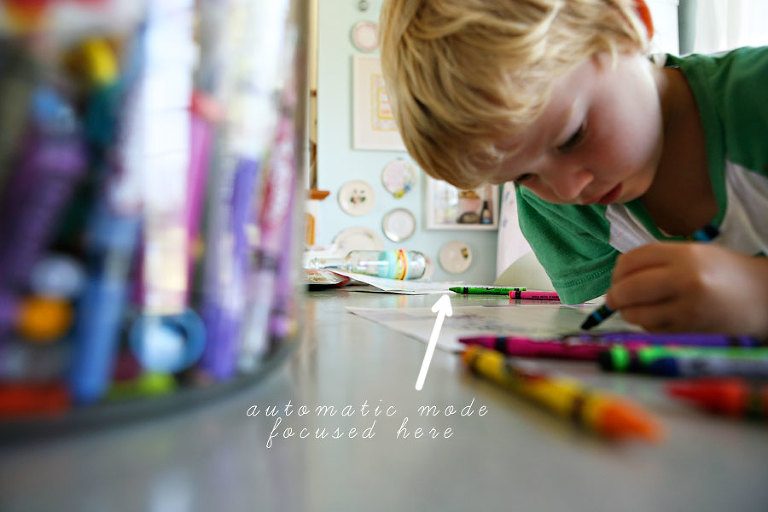 Here I used the back button focus to capture the crayons without the annoying lens jumping. Using the back button focus is kind of like using MF on your lens…only it is AF on your lens with more control.
And here I focused on Big Brother.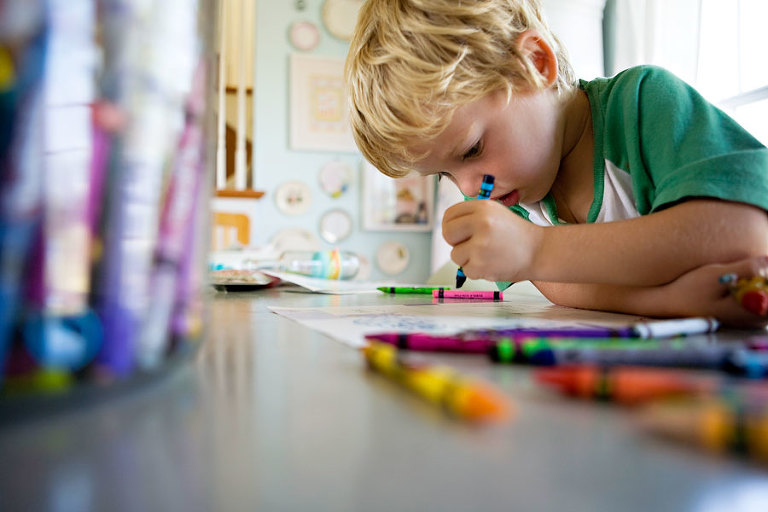 Don't forget the Lemon Poppy Shoppe (where I got the ribbon for this craft) and Expressions Vinyl giveaways are still going on (enter on Monday & Tuesday's posts)
So there you go..a simple diy and back button focusing. Today I changed your lives. 🙂
Enjoy!