So I went to visit the Domestic Ease post and was SHOCKED at all the comments. That was crazy…then I realized you all were leaving comments in hopes of winning the $500.00 Pottery Barn gift certificate…ya I'd like to win that too!
As promised, here are few tidbits on how I made some of our party decor. I probably spent less than $10.00 on all the decor. I basically bought a bit of scrapbooking paper and tissue paper…and took advantage of things I already had on hand. You don't have to spend a ton to create a beautiful party.
First, her headband.
Basically I covered a plastic headband with ribbon & hot glue. You could do this in a much more professional way, but I was limited on time. For the rest of the headband I just gathered random items and hot glued them all together. At the end I made a base out of brown felt and glued the felt to the headband. I wouldn't let her have this without an adult around – since it is just glued together she could chew it apart. If I had more time I would have stitched it. I ended up using ribbon, lace, feathers, silk flowers and ribbon flowers.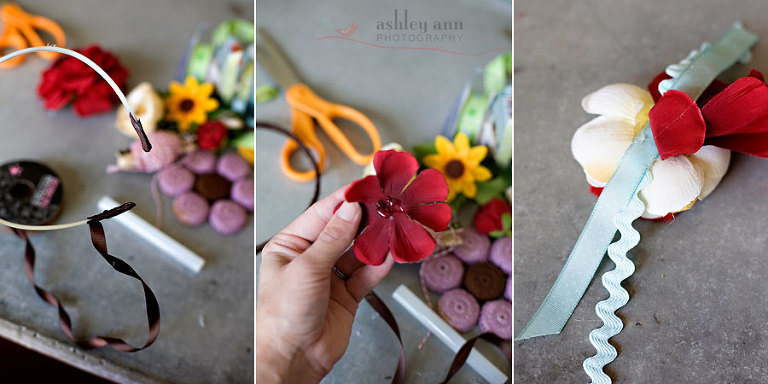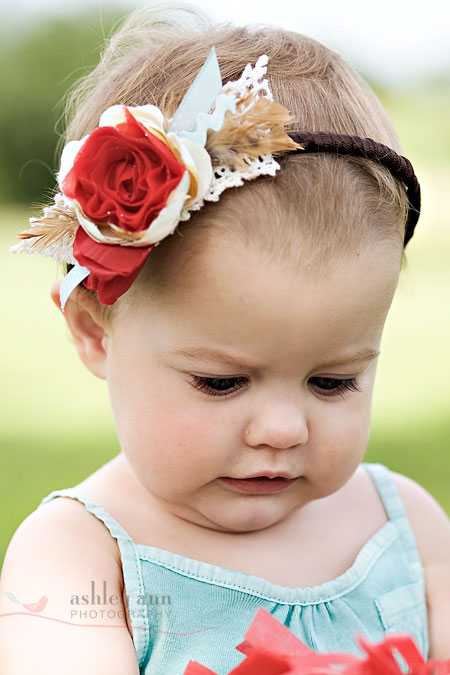 Circle Garland
I used a 1 1/2 inch circle punch. For paper I used notebook paper & scrapbooking paper…then just stitched it together. Easy Peasy.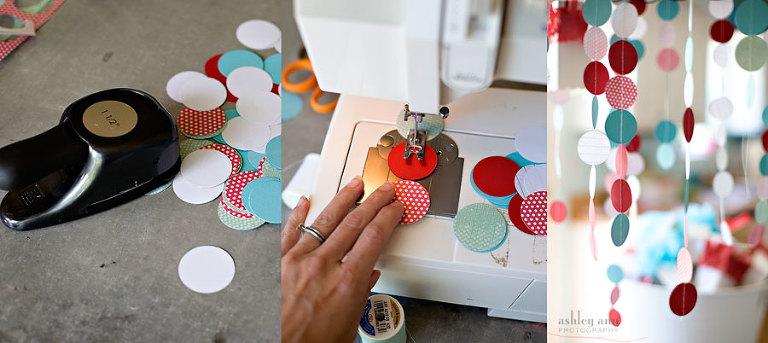 Random banner (don't know what to call it!)
For this I used Treat boxes from Walmart. They come as a pack of 8 for $1.50. I decorated the outside and glued stuff to the inside of each with tissue paper and some of the circle garland. I then used masking tape to connect it to a string.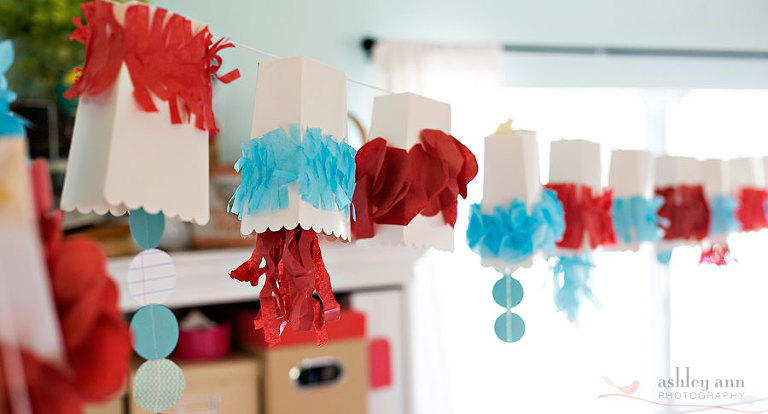 Cherry Blossom branches
I already had the branches decorated with pink tissue paper (left over from my son's kindergarten classroom). I just added some red tissue to make it match the party better. To make the blossoms I cut tissue paper in squares and folded them in half twice. Then I used hot glue to wrap it around small branch stubs.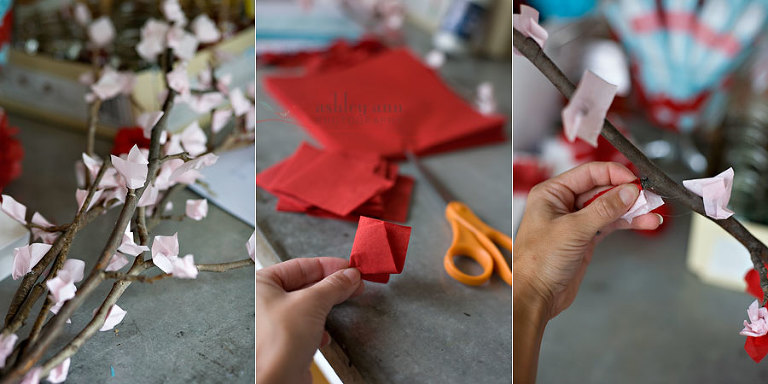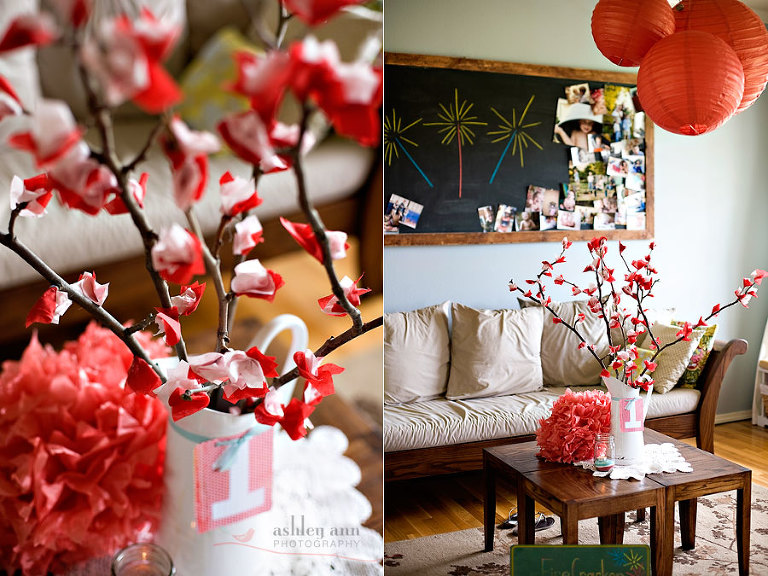 Table Cloth &  holder
It was windy on the 4th, so decorating the table was hard. I used an old white sheet for the base. The blue fabric is actually a sheet that was sewn into curtains in Biggest Brother's nursery years ago. To keep them in place I used a circle of scrapbooking paper pinned down with a tack.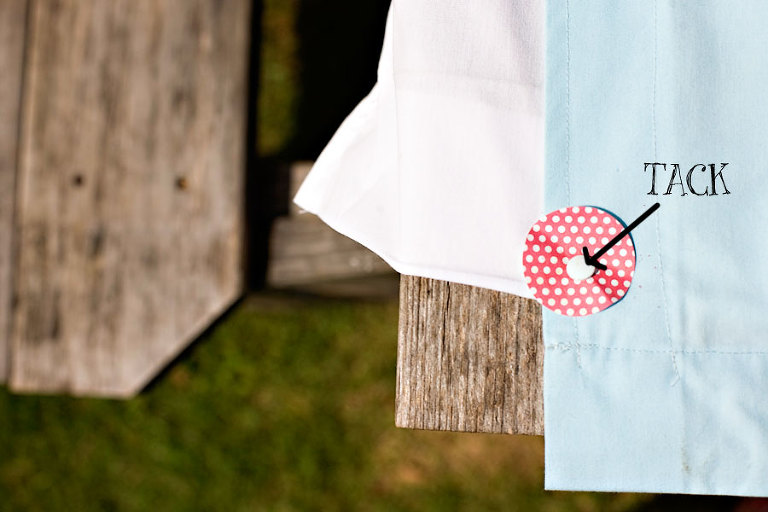 Table Decor
The napkins were wrapped in scrapbooking paper. I filled several mason jars with sand and "firecrackers". The firecrackers are just kabob sticks with tissue paper taped to the top. I had several sitting on the table and the wind knocked them over. I scooped up all the sand and put it in the big jar…and wrapped some circle garland around it to make it cuter. I got the sand and firework idea from Martha Stewart.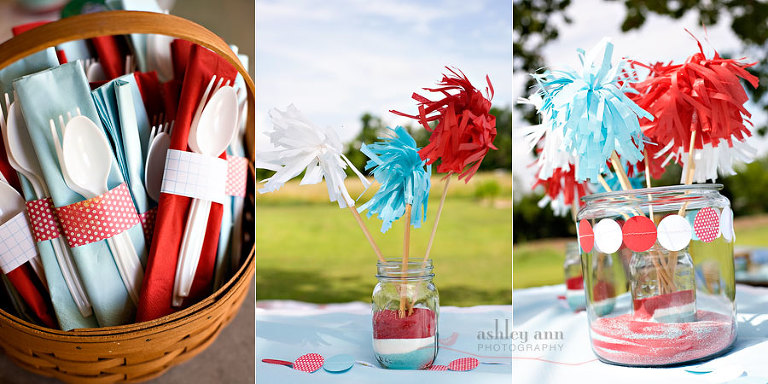 CupCakes
Our highchair is getting gross…guess that happens after 4 kids. I didn't want to drag it outside, so I made a little cupcake stand for FireCracker to stand by while she ate her first cupcake. The chair was orange, I spray painted it the day before the party to make it match. The cupcake toppers are just tissue paper cut and taped around toothpicks.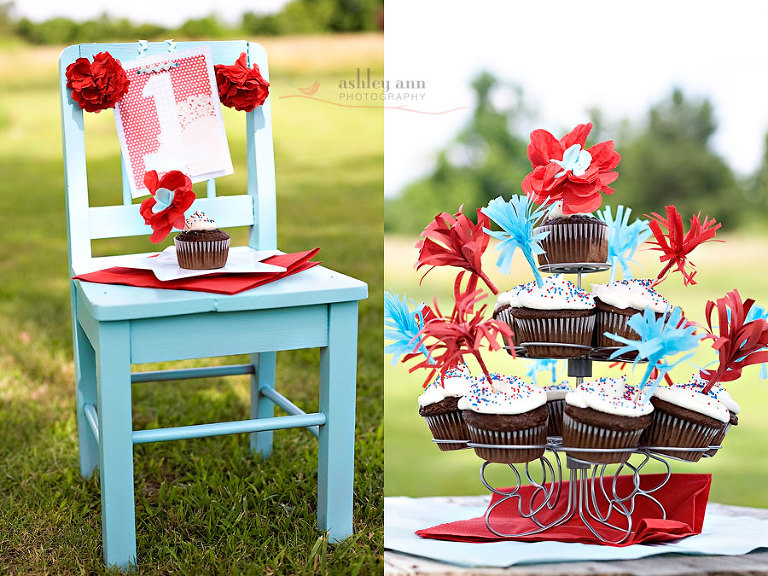 .
.
Someone always asks how I do stuff with 4 kids. Well this time I decided to buy them their very own Tilt-A-Whirl for the playroom to keep them busy while I crafted away. They spun and spun and spun….and went to bed complaining their tummies hurt. I figure if they spin long enough they will throw up enough times on the carpet that Chris will give in and put painted wood floors upstairs.
I'm a genius with a master plan.
.
.
.