UPDATE: Giveaway is now closed. Lifeogolia is the last counting comment.
Well as promised, I am going to share a few things about my sister's shower.
The first I will touch on is one of the games we played & the garland hanging behind the chairs (a few of you asked about this):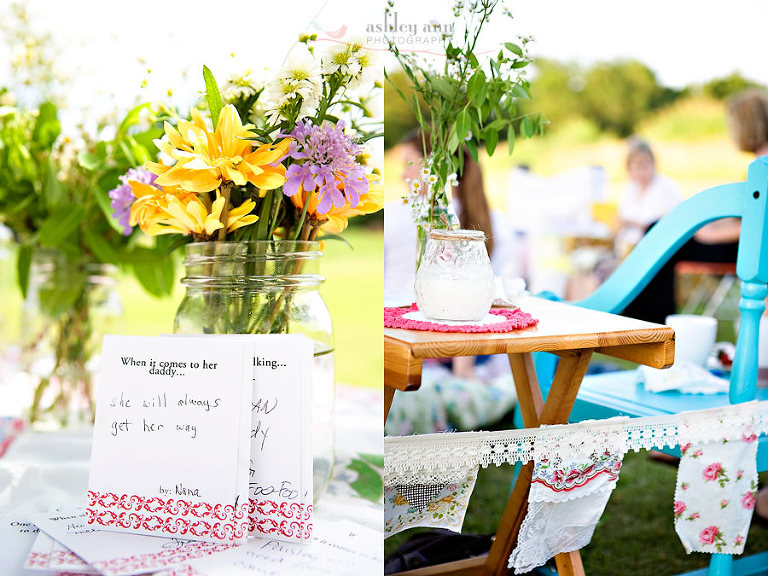 Game: I printed up about 30 cards with different phrases on them. The guests were asked to finish the thought/sentence/phrase. Once they were all completed I read the entire card and Lesley had to guess who wrote it. Some of the things on the cards included: "When it comes to her daddy….", "When she is a teenager…", "Her favorite thing to do as a little girl…", "Her first word…", "When it comes to pink….", "The first time she smiles…" – you get the idea!
Garland: I've been working on the banner for a while. I really wanted to get a What Not Banner from Dottie Angel, but they sell out the minute she makes them! So I have been storing away vintage linens and random fabric for a while. My garland made an appearance at the shower, but it's real home will be in the playroom.
……………………………….
The next is the banner with her name: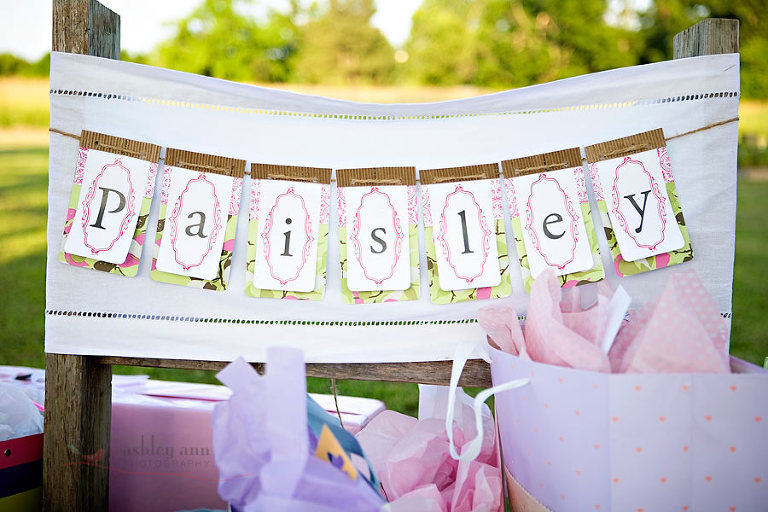 This was made using scrapbooking paper, the letters printed using the graphic from the invitation, and Starbucks coffee sleeves (never throw those things away!)
……………………………….
And the tableware: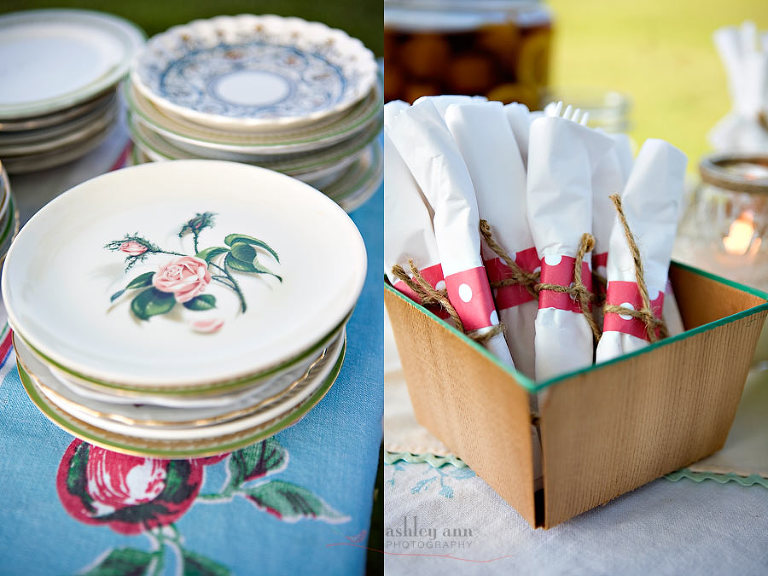 Plates: I already had a few, but then my sweet friend April at Southern Hospitality hooked me up with a great deal on the rest. Now I have a great collection for parties….odds are Firecracker won't be too girly, but if she is we could have some fabulous girl parties one day!
Napkins & Forks: Nothing fancy, just a little scrapbooking paper and twine…in a vintage fruit basket
……………………………….
And finally, I know so many of you love super quick crafts. I wanted to gather little notes of advice from all those that attended…and wanted them to be cute of course.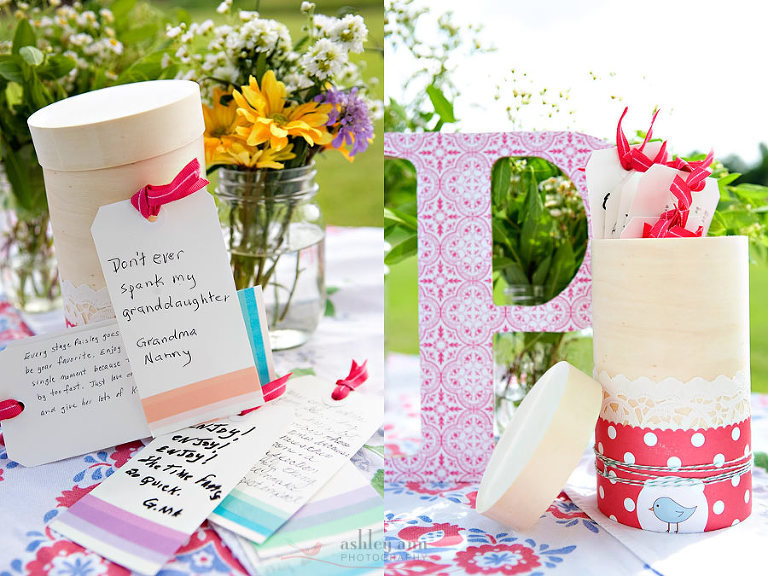 My supplies:
Unfinished wood jar from Hobby Lobby ($1.00 when it is 50% off)
Basic white tags from Hobby Lobby
Ribbon & Scrapbooking Paper from Hobby Lobby
Paper doily from my friend Marty (who was going to throw an old package of paper doilies away then thought of me!)
Japanese masking tape (you can find it all over etsy, just search for Japanese Masking tape)
Mod Podge
Spray Adhesive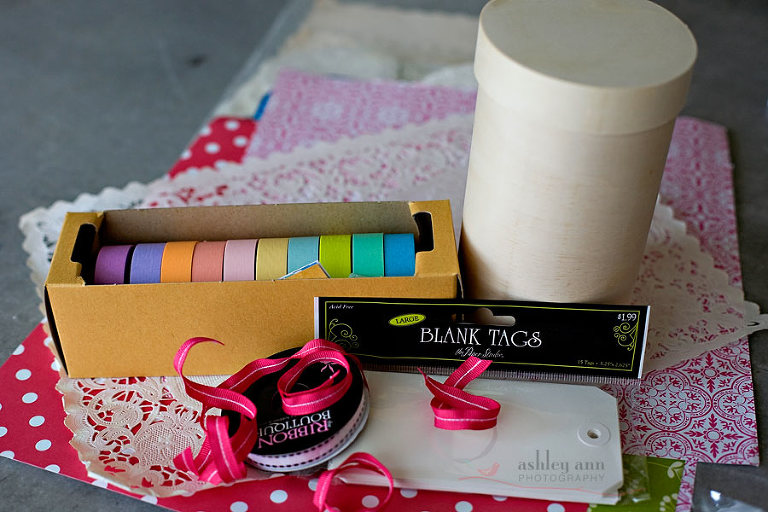 Step 1: Cut ribbon to tie to top holes of tags
Step 2: Embellish with masking tape
Step 3: Cut strip of paper doily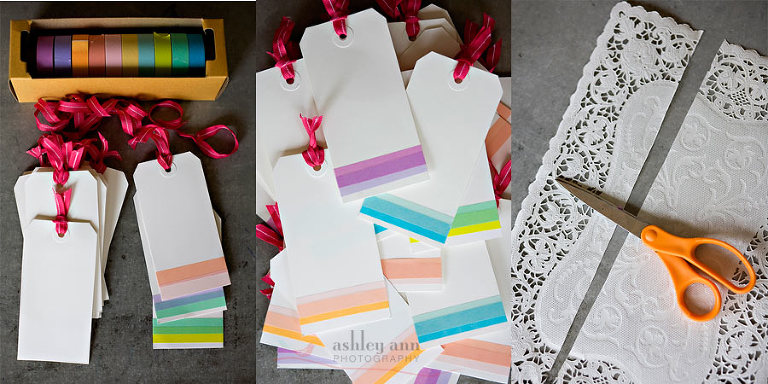 Step 4: Glue doily to jar using Mod Podge
Step 5: Cut scrapbooking paper to fit around jar, decorative cut edge
Step 6: Use spray adhesive to glue scrapbooking paper on top of doily, add a cute sticker, wrap with baker's twine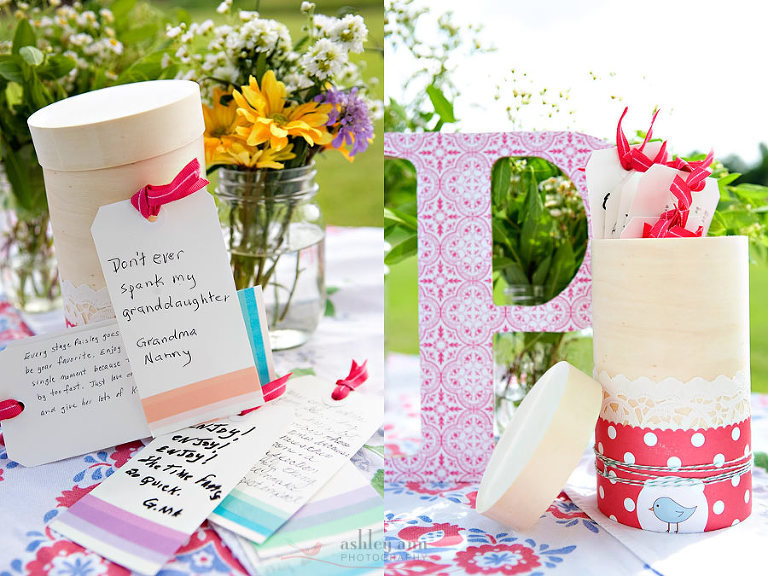 Other Ideas for this jar:
Little love notes
Date Night ideas
Special activities to do with kids (like a reward jar)
'Coupon' jar (babysitting for 2 hours; 1 back rub; 2 hours of alone time)
The sticker I used on Lesley's jar came with a set of cards I got from Absolutely Delightful on etsy. This is the card set….I think this design is just perfect. When someone sends me a handwritten note, it communicates "you are loved" to me….goodness I am a fan of Amy's designs!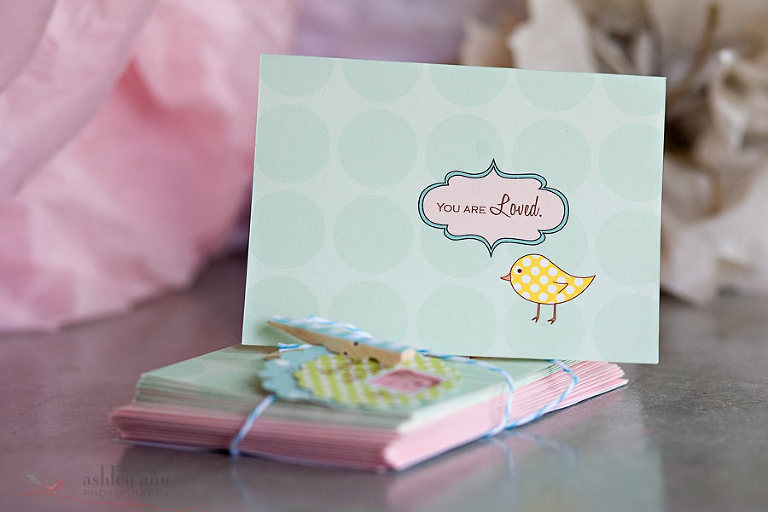 Here are some of her other items:
And – you guessed it –  I am hosting a giveaway today from Absolutely Delightful!
Giveaway details:
Prize is a $15.00 credit to Absolutely Delightful
Contest ends Tuesday, June 22nd 2010 9:00pm US Central
One entry per person
Winner chosen at random
To enter: Tell me in the comment section something that says to you "You are loved."