UPDATE:  The contest is now closed. The last counting comment is Melissa's, "I wanted to be a physical therapist or occupational therapist, possibly married and having children later in life. All came true except for the type of therapist I became: a mental health therapist instead! I am married, and at age 34, I'm having my 2nd child two months after my daughter turns 2 years old!"
As a teenager I had this idea of what my adult life would look like….
I pictured myself very career driven in my 20s & 30s.
I assumed I'd get married around 30 and start having kids as I approached my 40s.
When I pictured myself with kids it was always in the kitchen with a bunch of teenage boys surrounding homeade cookies.
Well everything about that idea of my adult life is totally off except the plate of chocolate chip cookies. When I saw the picture from yesterday's post in Jackie Rueda's etsy store (one of my reader's stores) it seemed a perfect fit for me. I loved how it looked a bit vintage, but fresh and happy at the same time. Once it arrived in the mail I tossed around several ideas of how I could display it…and landed on the shadow box display I posted yesterday.
WE EAT A LOT OF CHOCOLATE CHIPS COOKIES AROUND HERE! If only I had a cute pink bowl like the one in Jackie's photo.
Instead my boys prefer to eat their cookies in their dirt/mud trunks swimtrunks while dancing on the picnic table in the backyard.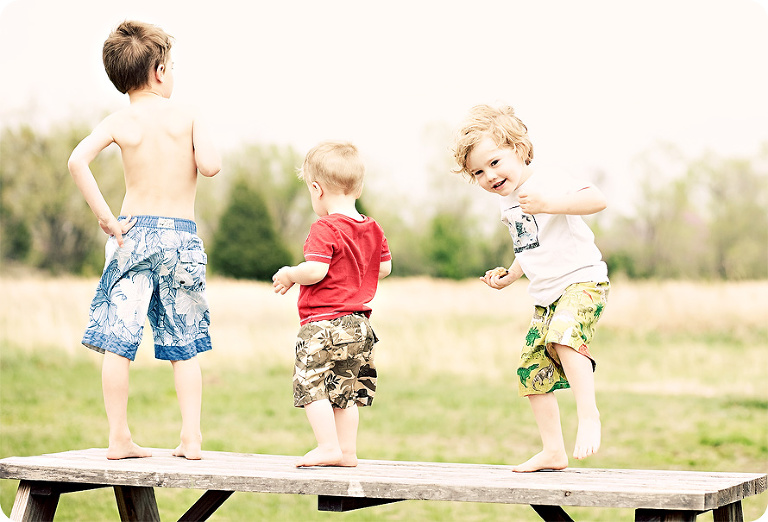 Dancing boys is a cute picture, but I prefer Jackie's in my shadowbox.
To get your started on your own artwork…in a shadowbox or not, Jackie is giving one print away to one of you!
Giveaway Details:
Prize is one print from Jackie Rueda
Winner chosen at random, One entry per person
Contest ends Saturday, April 10th at 8:30pm
To enter answer this question in the comment section: When you were (or are) a teenager, what was something you pictured your adult life to be like?
Here's a glimpse at some of Jackie's other prints (the cherry blossoms were what first caught my eye)
Check out more from Jackie on her website, flickr, blog, and facebook!