Last year we worked HARD getting our garden going…well the more I thought about it I realized the location we picked wasn't the best in regards to long term planning. I drew up the plans for my vegetable, fruit and flower garden. It will take about 5 phases to complete it – which means probably 5 years. Well over the weekend I started Phase 1: building the first 9 raised beds. I used these directions from Pioneer Woman, but modified them to adapt to my needs and land.
I grew up loving the smell of freshly cut pine from my grandpa and dad's tablesaws. My parent's always let my sister and I get involved in building stuff. In fact, in 8th grade I decided I wanted smooth walls instead of textured. My parents said if I wanted smooth walls I had to do it myself….and thus as a 14 year old girl I mudded and sanded my entire room. It was a MESS, but worth it. I want my boys to enjoy building too, so I planned ahead on ways they could help. All the boards had to be pre-drilled, so I made a little template that allowed the boys to mark all the drilling holes for me. They were great helpers.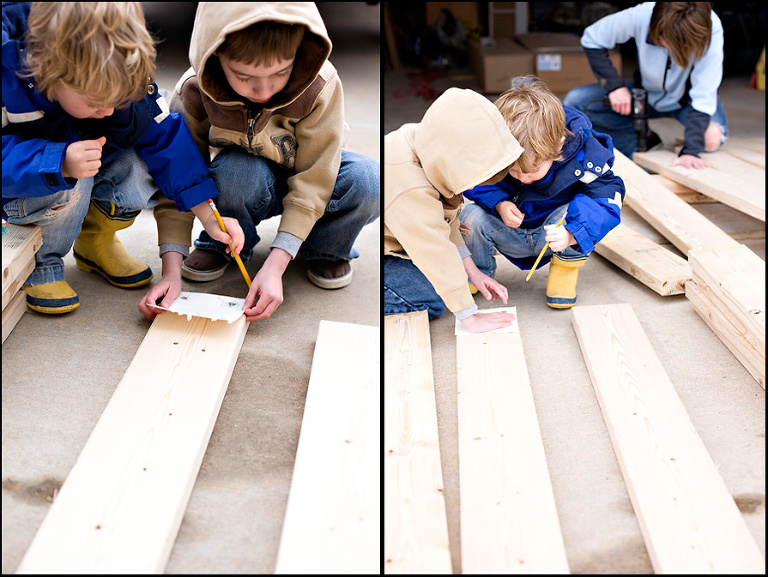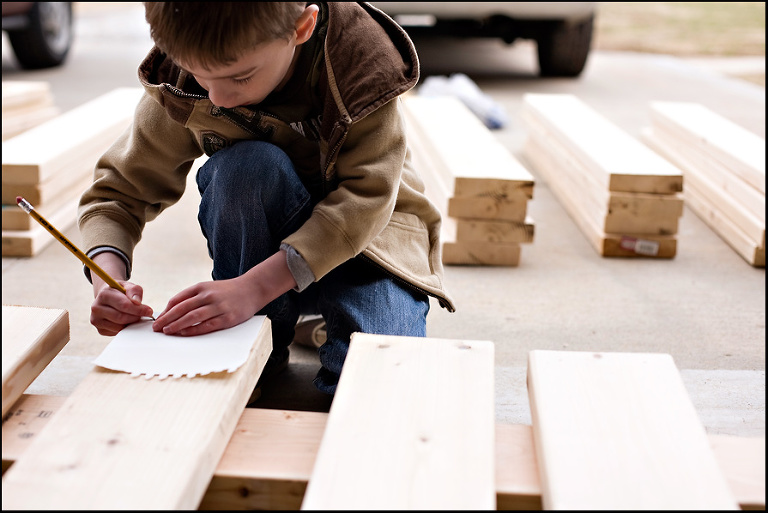 Pioneer Woman's instructions were just to pre-drill the main board, but I kept stripping screws. I ended up pre-drilling both boards. She also made hers 2 boards high, I only wanted mine 1 board high.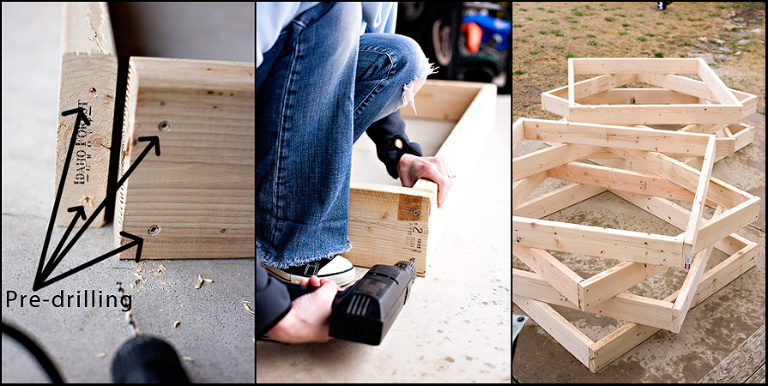 Since my boxes were only one board high the stakes were too long, so those had to be cut down.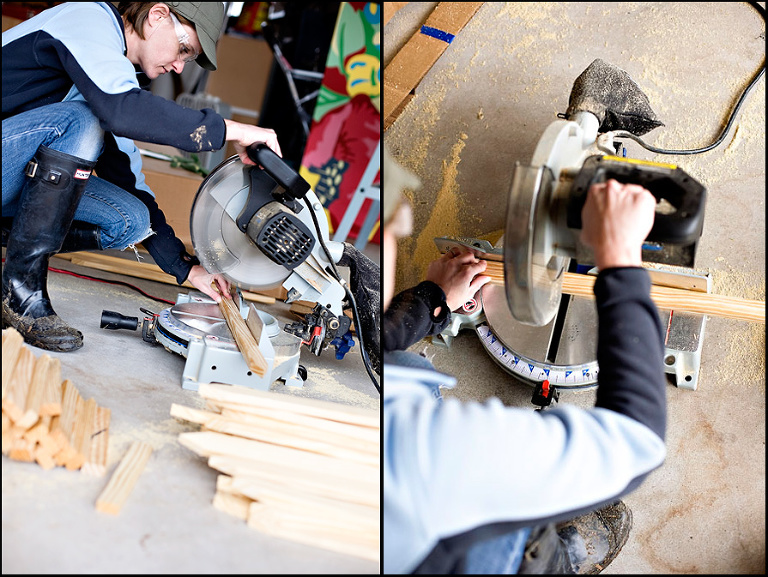 Every farm needs a horse. Ours came in the form of Baby Sister wearing Littlest Brother's old costume. It's made head to toe of fleece…kept her warm. Made me laugh. Yes, the excersaucer is in the middle of the field. I was hoping to keep my little horse from eating hay.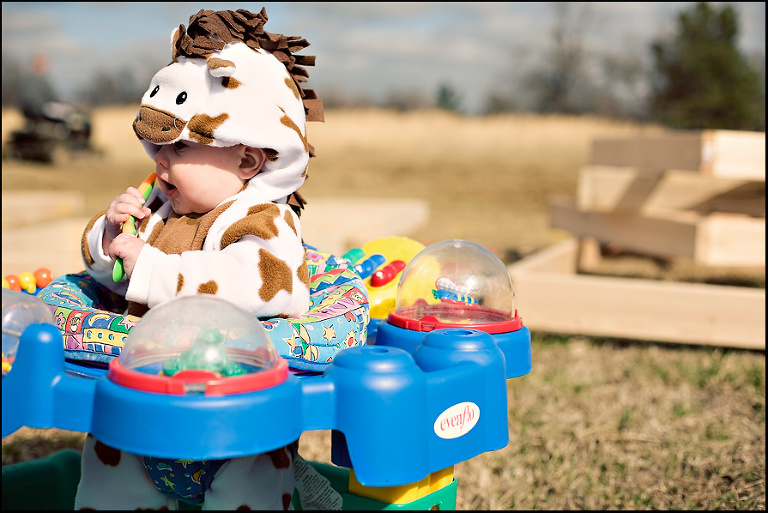 She wasn't fond of being confined, so I stacked two boxes, put down a blanket and made a garden playpen. Littlest Brother wanted in too.
I love how they always end up sitting so close together.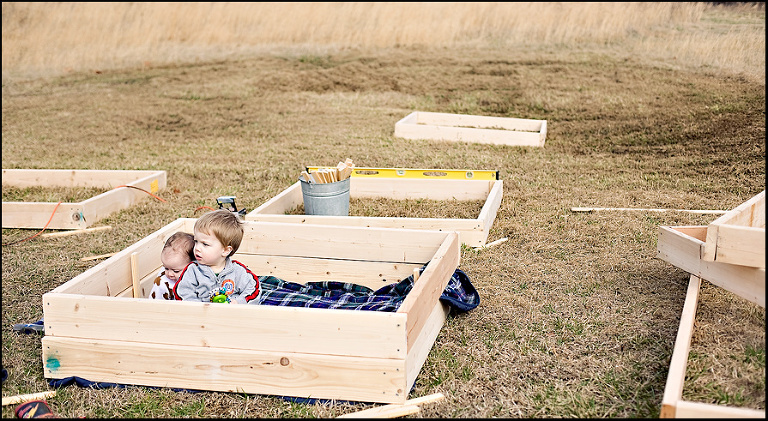 I attempted to hammer all the stakes in using a normal hammer…Pioneer Woman recommends a Sledge Hammer. I ended up sending Chris to Lowe's to pick one up…much easier. The ground was soggy so the stakes went in easy. Our land is all bumpy and crazy. The boxes are level, but we'll have to bring in a lot of dirt to even up the ground. Part of the long term plan also includes more boxes, a fence, an entrance, potted planets, gravel walkways….all kinds of beautiful goodness that will take me years to complete. One day I'll sit in the middle of the beauty and sip some southern sweet tea.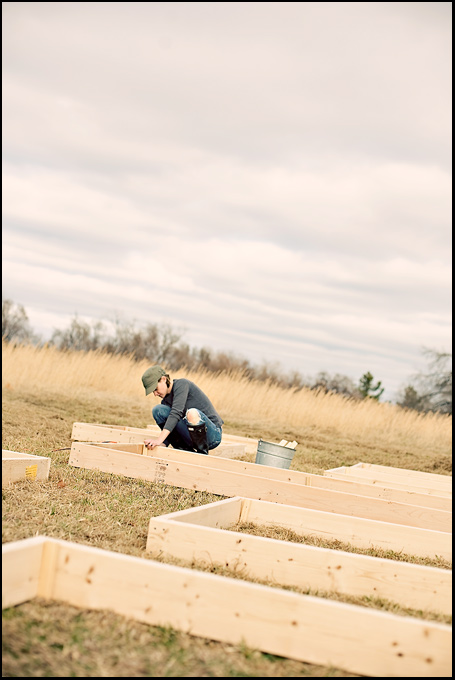 Chris take a picture for me to post to the world what a huge DORK I am.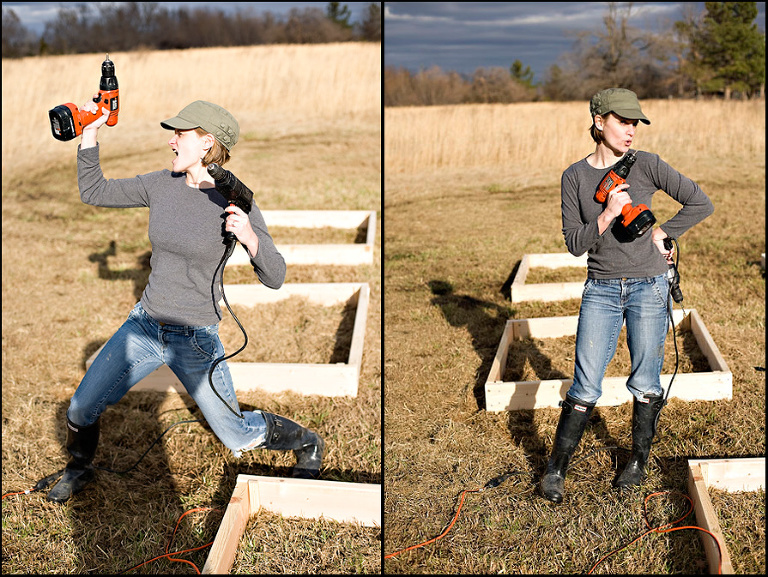 I need to transplant strawberries asap, so I got one bed almost ready for planting. It took lots of digging, manure, Starbucks grounds and some soil additive. Did you know Starbucks gives out Grounds for Gardens for free. Be careful how much you add to your soil, just a little goes a long way. More soil should be coming soon. Part of me hopes it rains while we have the dirt mound….the boys (and mom) love a little fun in the mud!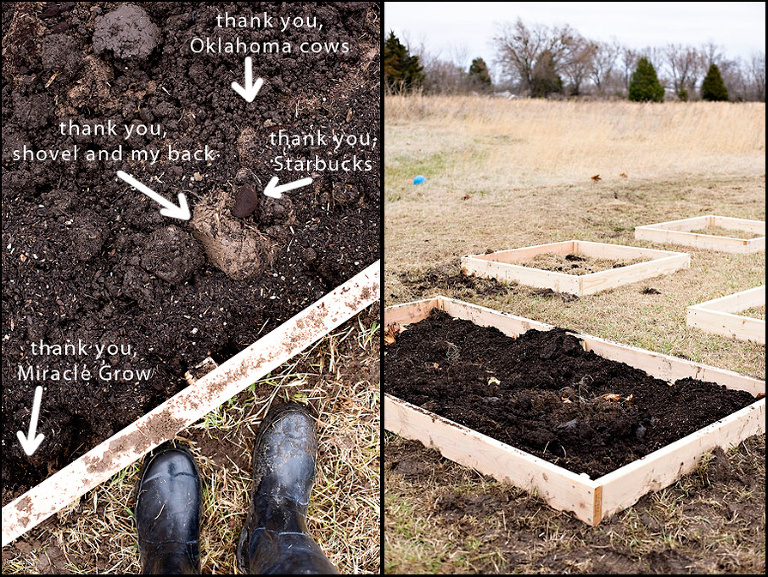 So much work to do, but when I'm eating all that salad and strawberries I will be one happy girl. Big thanks to Chris for being on kid patrol all weekend!
It is birthday week around here again…but Littlest Brother doesn't understand it yet, so I am off the hook one more year 🙂
Happy Monday!