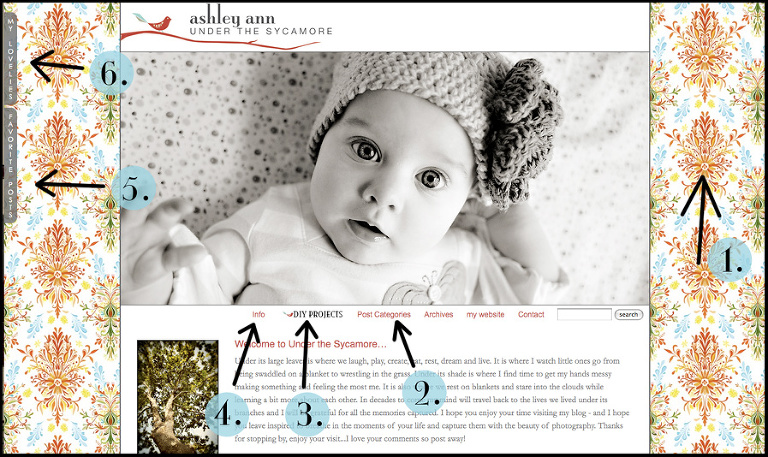 Well as you can tell I've made a bit of progress on updating my blog. There are still a few things I am working on, but it feels good to get most of it off my "to do" list! I thought I'd point you around a bit to make it clear what and where everything is….
1. My new background by Katie Daisy. It is a bit bolder than my backgrounds in the past…I love it. I love the colors. I love the modern/vintage feel of it. I love that it is unique. I just love it. Katie Daisy is so incredibly talented. You might remember her from The Wheatfield poster giveaway a few weeks ago. I have her You are my sunshine poster in my kitchen. I was looking at her flickr account and came across this pattern she designed. She was so incredibly kind to let me use it as a background on my blog. If she could print it into wallpaper I'd probably cover a room in my house with it!
2. Post Categories: All my posts are categorized. You can search by category instead of reading all of them. There is also a search button…for specific searches.
3. DIY Projects: I created a page that just lists most of my DIY projects. There are still a few I haven't gotten on there, but the major ones are listed. This will make it easier for you to find specific projects.
4. Info: Under the info tab you can find the following:
SnapShops: information regarding the workshops I teach for those wanting to learn more than automatic on their dslr
Online Goodness: Some buttons for some of my favorite sites (making my own button is still on my 'to do' list)
About Me: …a page about me…
Booking Me & Local Photographer: Why I am no longer taking clients…and a list of local photographers
5. Favorite Posts: Here you can find a listing of some of your favorite posts and mine. This is a great place to look if you are new to the blog.
6. My lovelies: Inspired by my friend Meg (her listing is down right now, but we all hope it will be up soon! I was totally wrong on that. Somehow I missed that it got moved to the left column of her blog. It is under the title "Happy Things". You really need to check her's out….it's the best). This is just a spot for me to share some fun things that I don't want to write a whole post about. You'll want to look at this often, I'll be adding stuff.
Buttons on the footer: I currently do not offer ad space on my blog. In the footer you will find buttons for non-profit organizations that I am a fan of.
I really like the sliding tabs on the left of the blog. I like keeping my blog simple and clean looking, so it is nice to just shut that tab when it is not in use. It is kind of like shutting my messy drawer full of pens, tape, stamps, and junk. I debated adding a permanent side column, but for now I think I'll keep them hidden…you'll just have to remember to check them! For those curious, I use a template from ProPhoto blogs. I customize my template. I highly recommend ProPhoto Blogs…especially for photographers. There are several other features that I currently am not using. If you are interested in a ProPhoto blog use the code: ASHCAM473 to get $10.00 off your purchase.
So what do you think? I'd love to hear your feedback!