A highlight of my day during December is checking the mailbox for Christmas cards. I love that so many people are doing cards with photographs on them. It is always so fun to see how families grow and change. We put all the cards on our living room chalkboard. Yes, there are only 3 stockings (mine & Chris' are on the fireplace). Every time I found one for Baby Sister (online), it would end up being sold out.  Inspired by these stockings on MADE, I think I am going to make one out of a sweater and tatting. That won't happen before Christmas…she won't know the difference.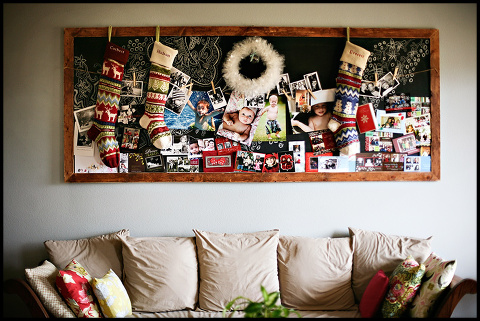 The chalkboard is full of cards from this year and old pictures from winter's past…and 4 large SUMMER pictures of my kids. I keep thinking I should replace those shirtless outside pics for something more winterish. However, I am not a fan of winter and those pictures remind me for every dreary, cold winter there is a hot and splashing fun summer.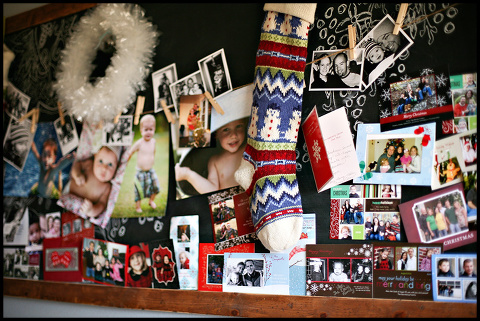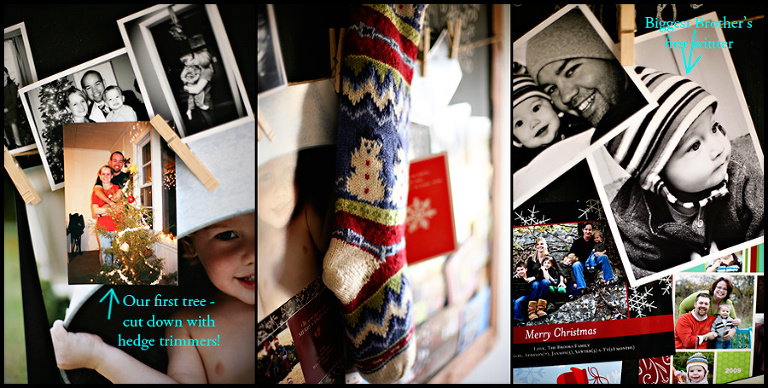 Chris got a card from Dave Ramsey this year. I added it to our chalkboard it makes me laugh each time I pass it because you know we are so tight with the Ramseys. Oh no! I forgot to send them ours! I am sure they are checking their mailbox daily in anticipation for it to arrive.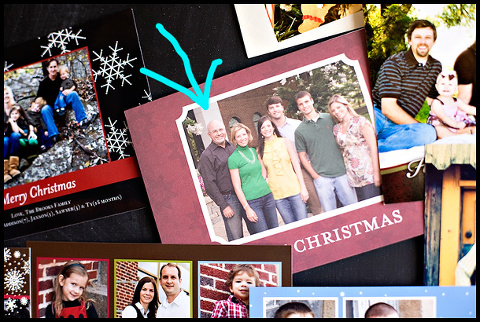 And here's our card: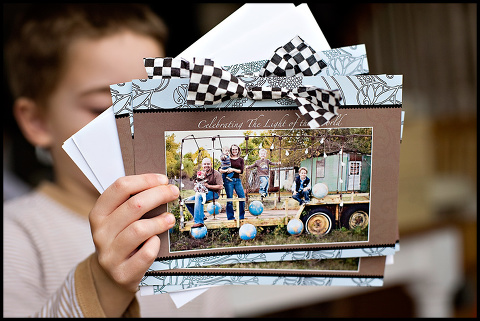 I thought I was being clever with the globes and strung lights for "Light of the World" (another name for Jesus)…however, several friends didn't get it and said, "Oh, that's fun you took pictures with your globes." I'm not as clever as I think at times!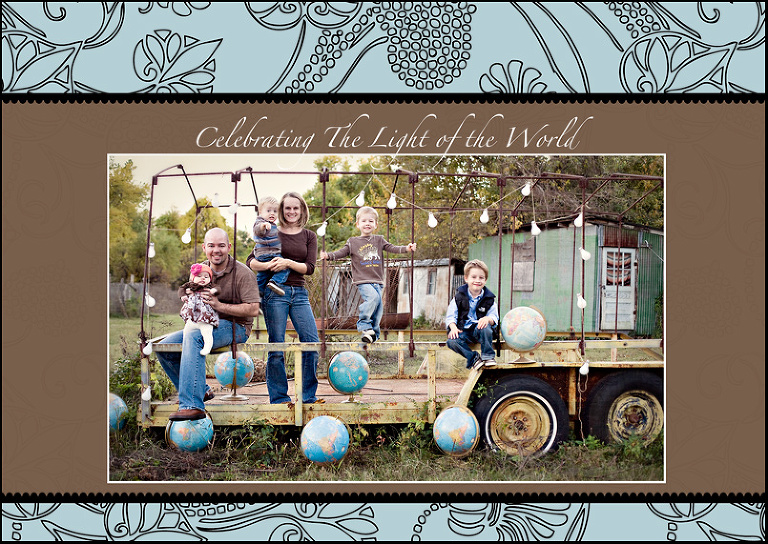 As I am writing this I noticed "Indiana Jones" is spelled as "Indian Jones". YIKES! Just checked a real card and it was right there…I must have messed it up when saving it for the web.
Before you pack away or throw away this year's Christmas cards I thought I'd share a few ways to re-purpose them…
*For photo cards, turn them into a Kid's Prayer Journal
*Make a Circle Garland from CraftStylish
*Cut apart the cards to use as tags for gifts next year
*Make clothespin magnets or scrap paper magnets to give away next year
I hope you have a wonderful Christmas…see you next week!
Google Reader does not pick up this blog…so don't subscribe!