I don't write a lot about how amazing my husband is, but let me tell you – I've got it good. Every birthday isn't a huge deal, but he has come up with some pretty incredible gifts over the years. When I turned 20 he took me skydiving. When I turned 25 he got me trapeze lessons. And 30 is only a couple of days away.
Over the weekend he handed me the following envelope: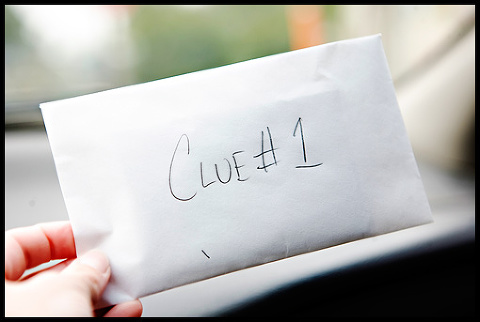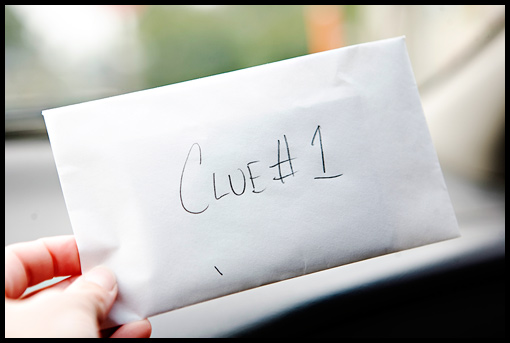 That clue led to several others. One led to my local camera store, where I got into a conversation with someone about blogs (he didn't know I am a blogger). He said, "Ya know, I don't know who has too much time on their hands the people who write blogs or the people who read them." I just smiled. The clue he gave me led the last one: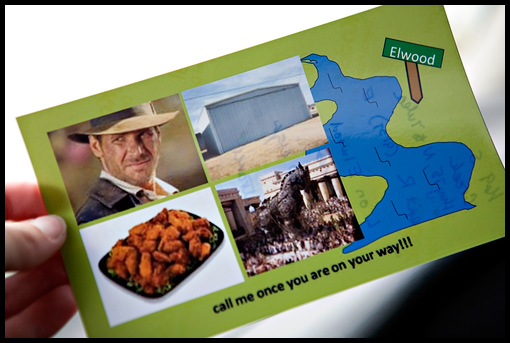 Which led to: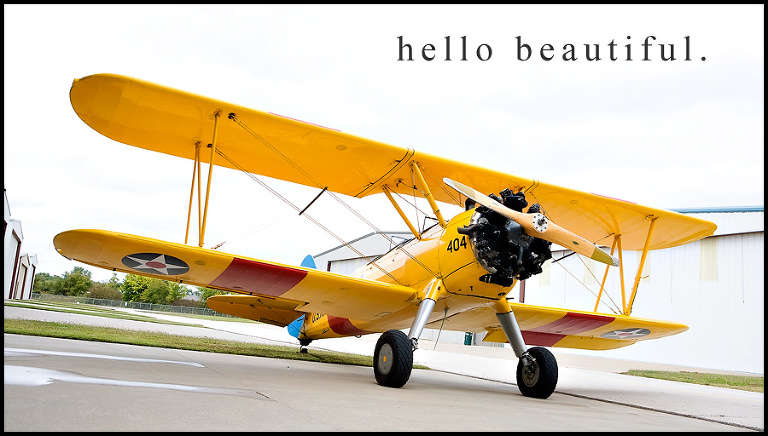 I have always DREAMED of flying in an old biplane…the kind where the wind hits your face and you can lean over the edge soaking in the beauty of earth below. With tons of phone calling, connection making and time he found a pilot willing to take me for a ride! When I first saw the plane my insides did the happy dance (my insides did, because trust me you don't want to see my outsides dance!). I was totally giddy…uncontrollable smiling! While we waited for things to get ready, the boys were entertained by the sights – and the only water puddle in sight.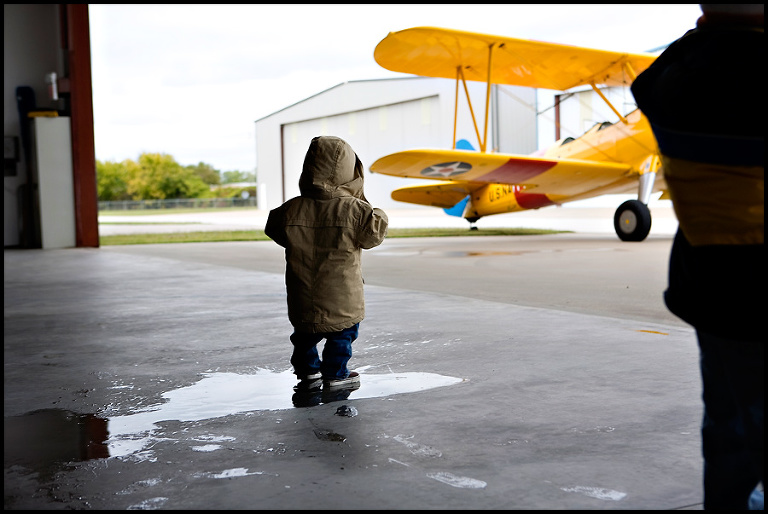 We did a run through over the parachute and boarded the plane. I sat in front – total awesomeness! The pilot pulled out a bag of marshmellows and said if we have to bail the plane and parachute down we'd meet back up at the burning plane and roast marshmellows until someone came to rescue us….we'd roast them because due to our parachutes we'd be fine in a crash. It made me laugh. He also gave me a bag to throw up in if needed. I stuffed it up my coat pocket – no way I'd be using that. Seriously.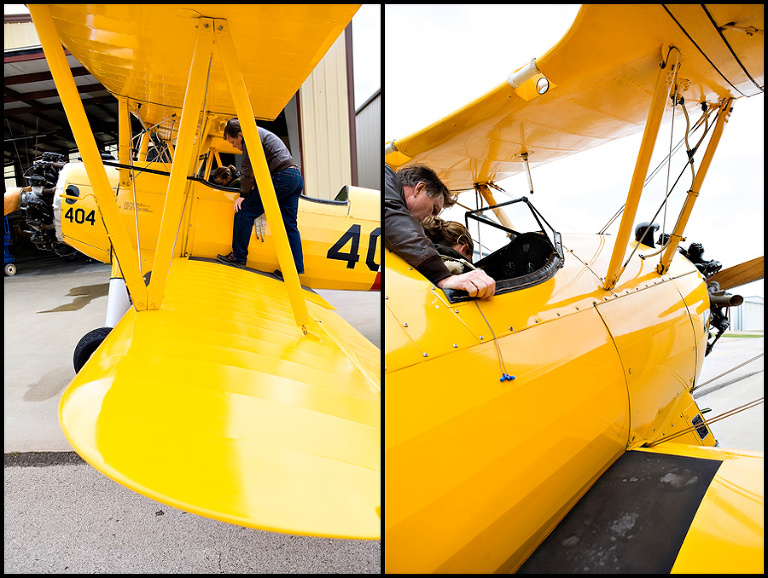 My best Top Gun pose. Yes, I know they didn't fly these in Top Gun, but I felt pretty cool in my mid-century war plane and earphones.
I like it vintage you know 🙂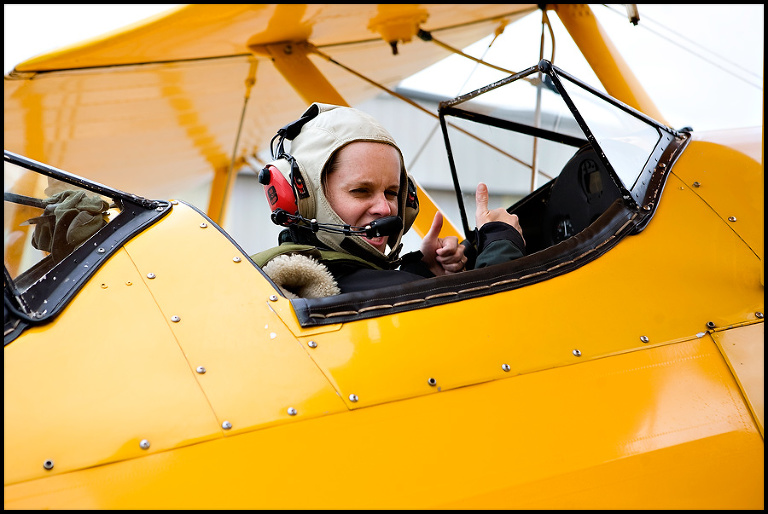 And we're headed to the runway…Biggest Brother ran after the plane. He was pretty excited to see me fly.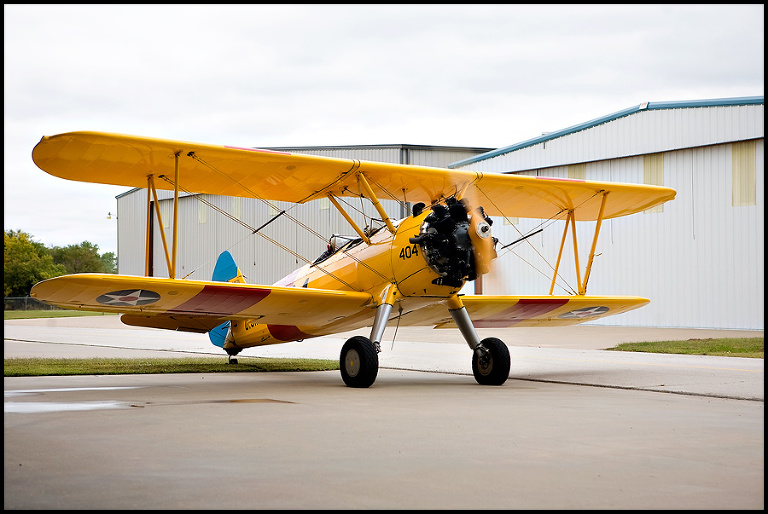 After a long flight over the city & surrounding areas we ended the flight with some acrobatics. He said most people don't really want to do these, but HELLO it was my favorite. He said he'd do a trick and then I needed to give him a thumbs up or a thumbs down so he'd know if I wanted to do more. He started with a barrell roll (not the techinical name). My thumbs were up before he even finished it. Then he did a flip. I can not even put into words how cool it was. Remember I am in the front, so one minute I am seeing nothing but clouds and then BAM the earth is directly in front of me and we are doing what seems like a nose dive into the trees…and then he pulls it up and we are soaring again. He got 2 thumbs up after that – 2 arm-pumping raised high in the air thumbs up. He asked if I wanted to do it again. "YES. PLEASE!!!" Instead of one flip this time he did 2 in a row, I screamed in the middle of the second flip "THIS IS AWESOME!!!!" I could hear him laughing. Then it was time to head back. I like rollercoasters, but this was unreal. Rollercoasters are MUCH faster…just doesn't compare.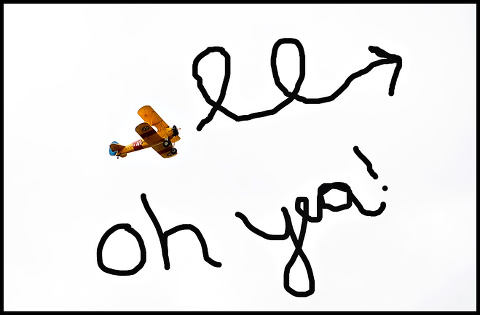 Once back on the ground he told Chris, "She's a keeper. She's got game." Oh yea, I got game. Whoop. Whoop!
My friend Cindy saw me land, she said I looked like Amelia Earhart – happy dance again.

So I know you many of you moms reading this are thinking, "I would NEVER do that, especially now that I have kids." I know. I know. I'll admit as I was about to take off and Big Brother was crying that he was going to miss me, it did cross my mind "I really hope I see Chris and my kids again." However, the reality is I am more likely to die on the highway due to someone texting while driving than I was on that plane with a veteran military pilot/current commercial pilot with 30 years of experience. I could have let irrational 'mom' fears keep me on the ground and I would have missed out on one of the greatest adventures I have ever gone on. I have spent most my life in this area and I have taken countless commercial flights to and from it. BUT nothing compares to being in that open biplane flying over the area of the world I call home. We flew over my schools, my friends homes, the reservoir where I hung out with friends, my church, the river, etc… And then we flew over my house. We live on a couple of acres in the smack dab middle of town – so I could spot our yard and house from about 5 miles out. As we flew over and I looked down at where I live and play, it dawned on me that though I was having an amazing adventure in a biplane – that white house below is where my real adventure is. It is a crazy, beautiful and dangerous adventure – and I get to live it everyday!
There is a gazebo and picnic tables near the runway. Chris had planned a big party right there at the end of the runway. He worked hard to get all the details together for my friends and family to wish me a Happy Birthday as the plane landed. Sadly, it was very cold and he had to scramble to move the party to an indoor location. It was still super fun and I felt so loved by all of you that came out to celebrate with me.
Thanks babe – you know me all too well.
For those of you with time on your hands here is a little YouTube video I found with the type of plane I flew in. The first roll he does is the one we did. We also did the flips…the other stuff I am hoping he'll do with me next time. I got game 🙂 I am not sure what the smoke is on this video, I think it is just something for the air show. My plane didn't smoke – at least I couldn't see any smoke! 🙂