First, let me say 'thank you' for all the sweet comments on the pallet bed we made. I somewhat finished the nursery so I thought I post pictures of the rest of the room. I'm going to add pictures of her once she arrives.  Obviously, there is not a crib in the room. We'll move her brother into a twin bed in a couple of months and then move the crib into her room…until then I'll enjoy rocking her by the window, snuggling on the bed and letting her sleep in a cradle in my room so I don't have to drag myself upstairs at night.  I really like having things in my home that have a significant value to me…not so much a monetary value. I have a treasure of things from my grandmas & great-grandmas, so it was fun to finally get to use those in a girly room. Onto the pictures: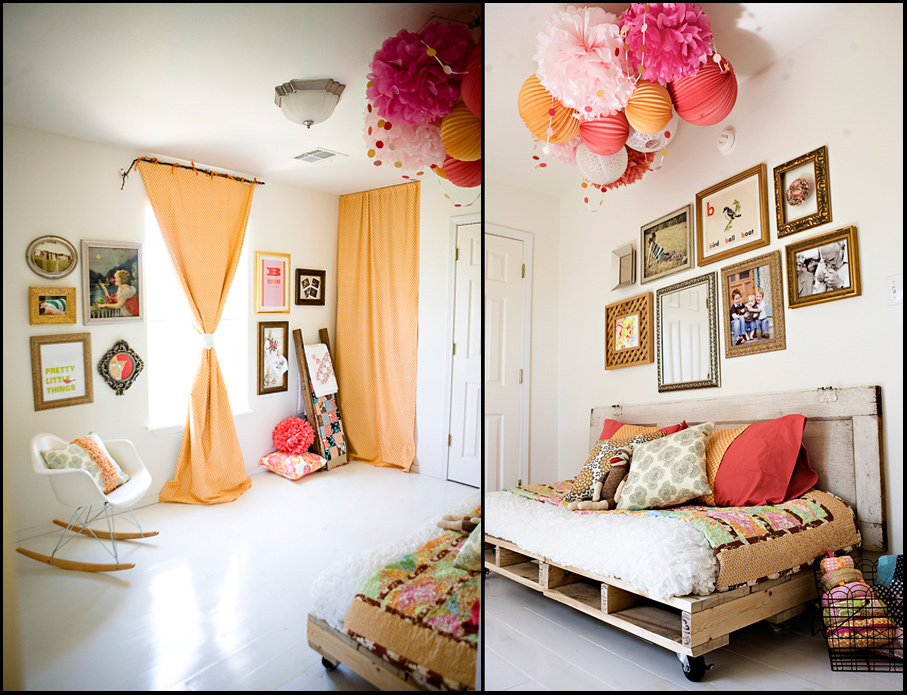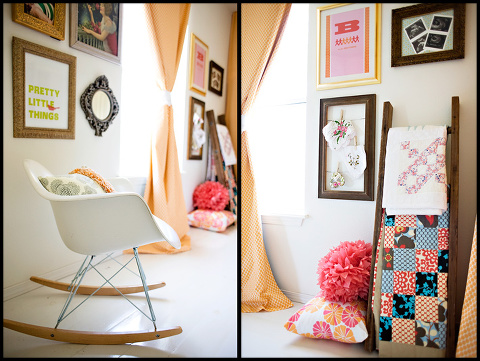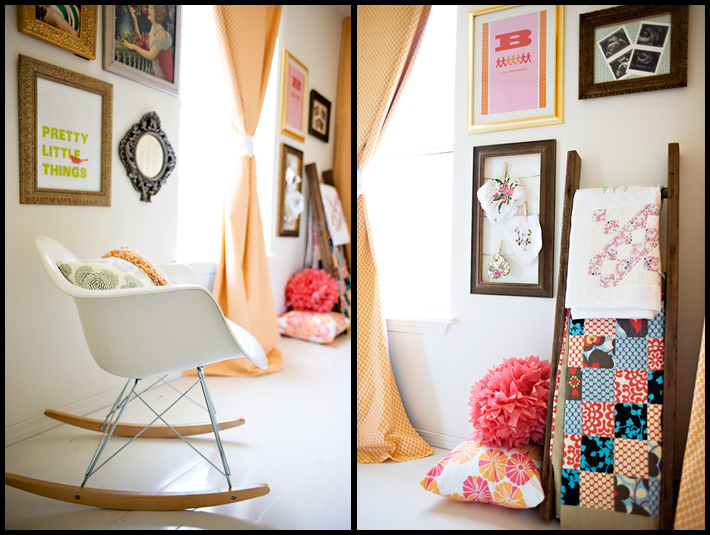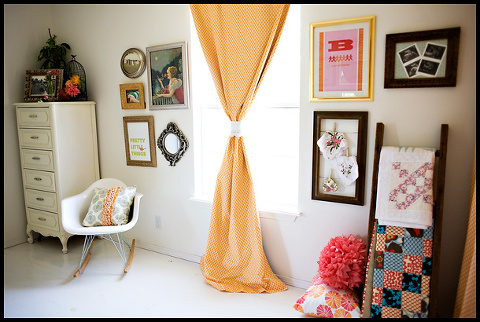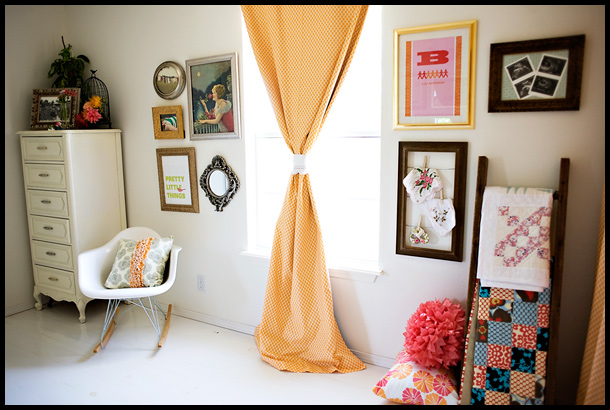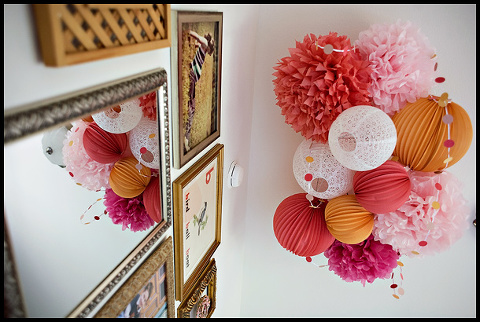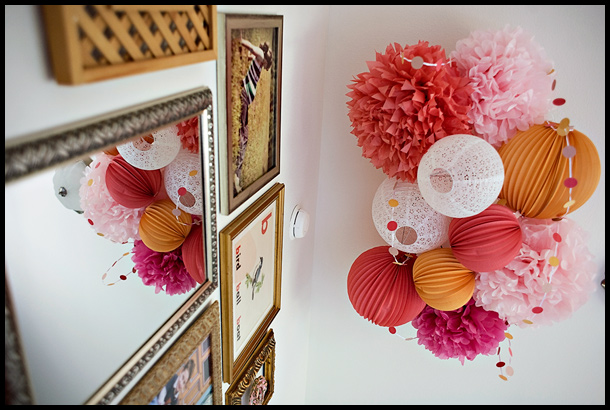 I convinced Chris to tear up pretty new carpet (if anyone local needs carpet…email me) and install hardwood floors. We used pine, which is a soft wood because I want it to get dinged up with time and I wanted to paint it white. I have always wanted painted white floors…now to convince him to do it to the rest of the upstairs!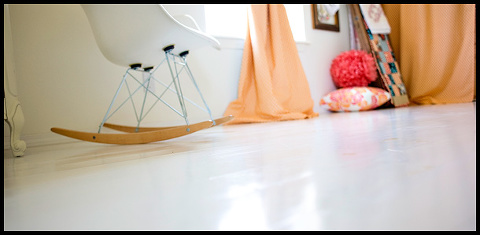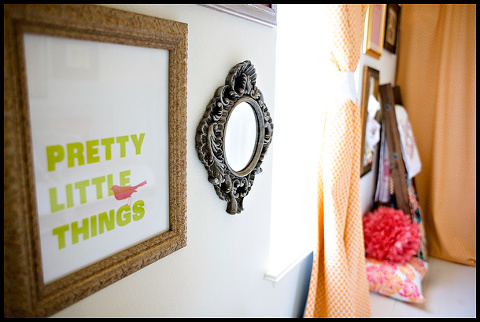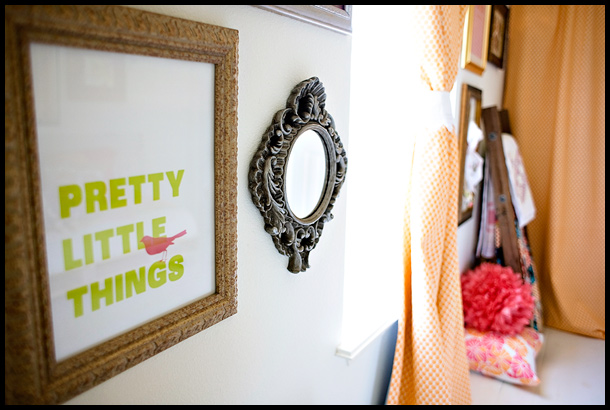 Details from the pictures below:
1. For the window tie back I used tatting handmade by my Great-Grandma. It is actually supposed to be sewn on the edges of a pillowcase, but I like it on the curtains (which my mom made).
2. A 'framed' Cora Pin…it is a reminder to me of how God used a precious baby girl – and how I pray my daughter will impact her world. The framed picture below it is of my Grandma & Grandpa Rankin. They live a mile away from us and I am so grateful my boys get to see them nearly every week. Nothing beats seeing my grandparents on the floor playing with my boys.
3. A quilt made by my Aunt Sandy, my monkey from childhood
4. The fact that my daughter has 3 big brothers will play a large role in the woman she becomes. I am grateful for this and celebrate it. Originally I was going to find some Alphabet cards for the letters of each of her brothers names…then I decided that was too much. So, I convinced my sister to design a poster that says, "B is for brothers". I wanted it to have paper cut out people in pink and then 3 (for each of her brothers) in orange. I love how it turned out…my sister has crazy talent.


1. The framed picture from the local newspaper is of my Grandpa & Grandma Corbett in their massive garden. I have so many memories with them that center around their garden and food. The nursery overlooks our garden and the flowers in the vase are from our flower garden. My grandma passed away last year and we spend most Saturday nights with my grandpa. On the birdcage are more flowers made from paper. These were hanging from a wooden platform that Chris and I stood on when we got married outside. The two ceramic figures were painted by my oldest two for their sister…they love seeing them displayed on the dresser (which was mine as a little girl).
2. The hankerchiefs were my great-grandma's and my grandma's. The shoes are the first thing we bought when we found out we were having a girl.
3. The top quilt was started by my great-grandma and then finished by my aunt. The bottom quilt was made by my grandma..she makes all the kids quilts.
4. The framed pictures include our Dresses for Africa dresses, my pregnant self (will be replaced with a pic of her), a vintage poster my grandma gave me as a little girl, a fun poster from Etsy seller PaperRelish, and  a mirror given to Chris and I as a wedding gift.


A few 'before' & 'after' pictures: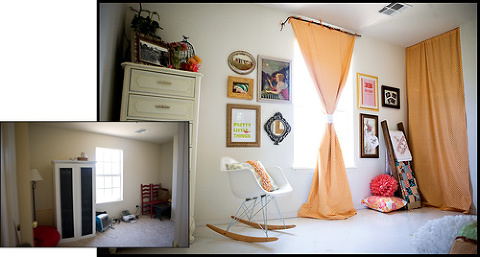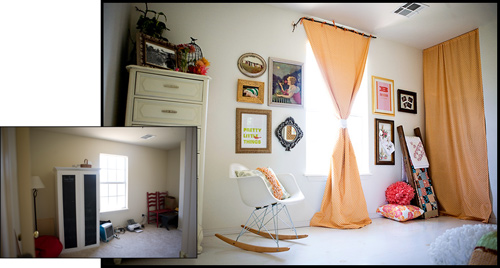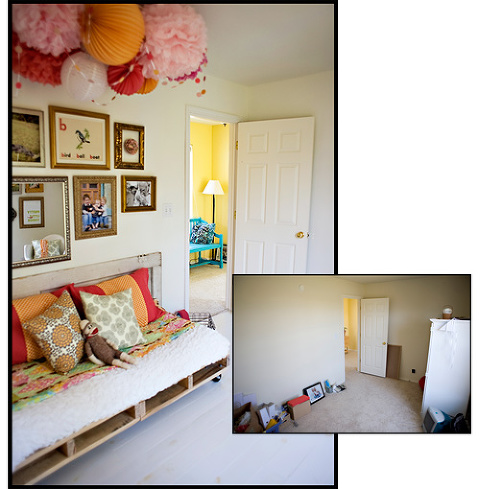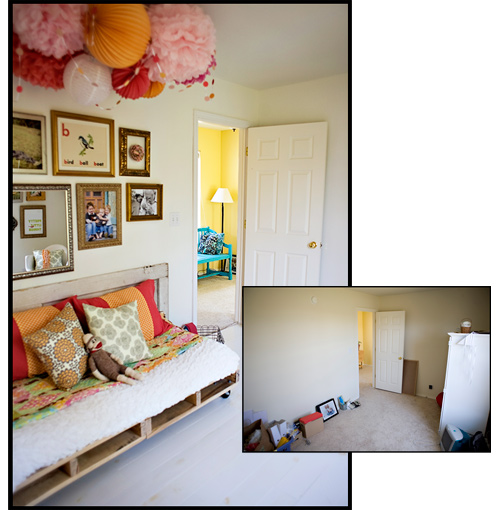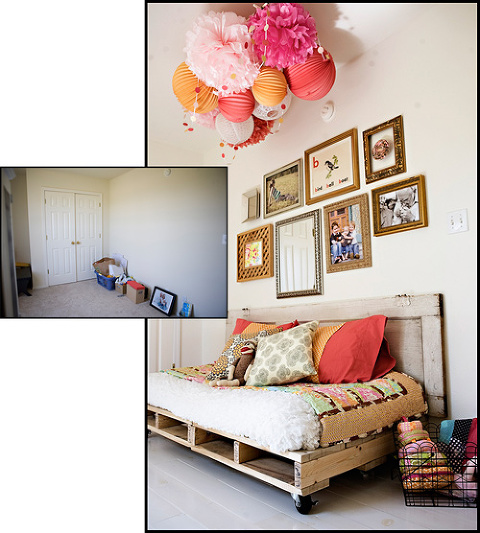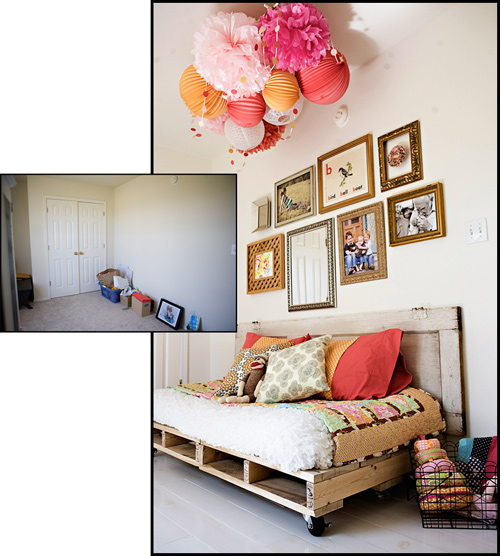 Thanks to all my family who handmade precious treasures for her room: my husband, first son, second son, mom, dad, sister, aunt, Grandmas, Grandpa, Great-Grandmas