Last week One Pretty Thing featured my craft organizers. On the same day these Ruffle Bottom Onesies were featured. I had bought a couple packs of plain white onesies previously…which a couple of my friends gave me a hard time about (verses me buying girly onesies). At the time I figured I'd iron-on something to them like I had done for the boys. Well – look at my personal growth as I approach having a daughter! My mom and I sewed ruffles on the butts bottoms. I have to admit they are so cute it is a good thing I don't have a serger at my house or I would probably be covering her room in ruffles. You can find directions for them HERE. We used the same technique to make a pillow for her room.
The pillow…the orange fabric will be curtains for her room too.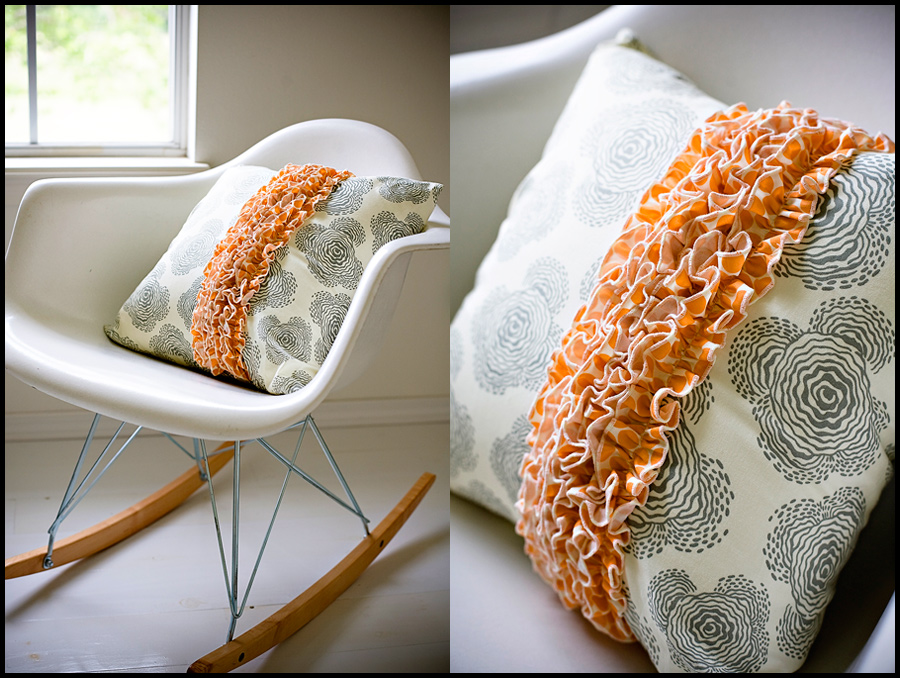 The onesies…one is out of Amy Butler fabric, the other is Heather Bailey fabric that I bleached for another project (to be posted later).
And on another note I finally got to do a little thrift store shopping. It doesn't happen often since my boys DESPISE shopping. Here are my finds from the day: wooden movie seats from the 50s, a magazine rack (to be madeover), an enamel pan, a record box (also to be madeover – not so much a fan of the color or butterfly). I'll post "after" pictures later. So technically speaking Chris and I can now say we have theatre seating in home 🙂